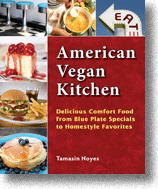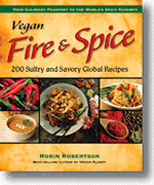 I am proud to give a plug to a relatively new vegan publishing company right here in my home state of Virginia.
The folks at Vegan Heritage Press describe themselves as "an independent book publishing company founded in 2007 to publish quality vegan cookbooks and other publications that promote healthful living and respect for all life."
To that end they "publish books that bring to vegan cooking new and inventive ideas that can delight longtime vegans, inspire newcomers, and intrigue the curious who want to improve their health and the world in general by cooking great vegan food."
Check out their first two titles: Vegan Fire and Spice by Robin Robertson and American Vegan Kitchen by Tamasin Noyes. In the fall of 2010, look for Vegan Unplugged by Jon Robertson with recipes by Robin.
Here's to the "little company with big ideas"–The Blooming Platter wishes you perennial success!