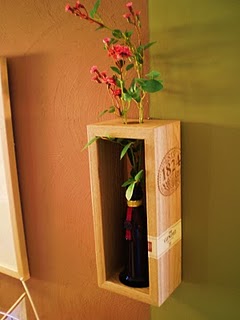 A couple of days ago, I went into my husband's man cave to retrieve some brandy for cooking (I have to do it when he's not home because I always go for the good stuff). There I discovered a solid wood four-sided Glenlivet box on the floor to be discarded. Not! It was crying out to become a shadow box. So, in about 5 minutes, a shadow box it was.
I'm home on Spring Break this week and tending to lots of household projects. Yesterday, I had three different sets of workman in and out, so I decided to make good use of my home-bound status.
The box had a circular depression in the bottom, perfect for a bud vase. I chose to use an empty Franglica bottle with the label removed. The box also had a circular hole cut in the top through which flowers or bamboo or whatever could extend. I don't keep faux flowers around, but I had one stem with sentimental value: they were left over from a headband I'd had to make for a recent special occasion. (I've hinted at this previously and more on it soon when I receive the disk of photos.)
All I did was pop a sawtooth hanger on the top back of the box, a couple of wall protectors on the bottom back corners, and a picture hook in the wall above our *new bar. Then, I set the bottle in place, inserted the flowers and hung it. That's it. Done!
Now that's my kind of project.
*The new bar was one of those projects with which some of you will hopefully identify: I woke up last Friday at 5 a.m., with house guests coming that night, thinking that I simply couldn't stand it another minute if I didn't convert our breakfast bar into a bar-bar. Don't ask me why, that's just how my motivation comes: with a vengeance.
Pieces of this plan had been brewing for a while, but absent specifics. So I got up, crept downstairs, emptied out the breakfast bar cabinets and cleared the counter; transferred bar ware, tools, bottles and such from one cabinet and a metal cart to the new bar; and found new homes for the cart and everything I had removed from the breakfast bar. I love the look and I loved being able to move that cart out of the kitchen and into my new (wo)man cave (more on that later)–really opened up the space at the end of the kitchen peninsula. This week, thinking that some of the items on the bar would look more cohesive collected on a tray, I found the perfect simple, modern white platter with integrated handles at Bed, Bath and Beyond (or Bed, Bath and B— S—, as my husband calls it).
So, now, my bar project, too, is done and though it took longer than 5 minutes, it was pretty quick–I had to be at school at 7 the day I did the bulk of it–and resulted in several spaces looking and functioning just how I want them…I'll drink to that! (The funny thing about all of this is that I'm not a big drinker at all. I enjoy wine with a meal and the occasional holiday soymilk punch, but that's about it.)