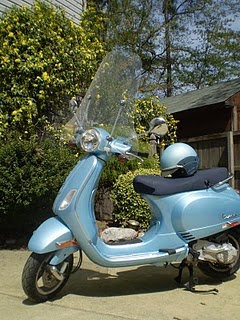 Besides eating a vegan diet, there's no more fun or stylish way to be eco-friendly than on the seat of a scooter. I love the classic quasi-retro lines of the Vespa (and with a name like DiJulio, I love all things Italian), but I've never met a scooter I didn't like. Have you seen the mod flowered ones that Honda makes?
We bought mine in the fall of 2008 when I switched from a gas guzzler to a Prius. I have to confess that while one of my main motivations was a greener approach to transportation, high gas prices and a car that was expensive to maintain were also motivating factors. But it was my dad who suggested in response to my lament about the latter, "Why don't you get yourself one of those scooters like the Italian girls ride?" (My husband's and my families had all been on a trip to Italy together and we were taken with the stylish women, dressed for work, zipping down the cobblestone streets. So, alas, a fun, sporty European ride was also a motivating factor.) My response was, "You know, I just saw a sign that a local dealership is selling them, so I think I will." And I did; that weekend.
My mom was ready to "throttle" him for suggesting such a thing. But I'm a very safe driver; I even read the Vespa safety manual online before setting off on my maiden trek to school. Though my scooter is fully street legal, it only travels at about 39 mph (with the windscreen added)–I wanted a 50cc engine in order not to have to obtain a motorcycle license–so I try to stay off of main in-town streets where the speed limit is 45 to avoid annoying other drivers and, frankly, to stay out of the fray.
I'm also a very fair weather rider and, sadly, didn't ride the scooter much this school year, as it seemed I always had a big load of materials to take in, an afternoon meeting that was far away, or inclimate weather–what a wet year we've had. In fact, when our niece was here for Thanksgiving, she wanted to go for a ride with me, but it wouldn't start–carburetor issues, it turns out–so it has sat idle all winter. I finally had it towed to the dealership last Thursday, just getting it back yesterday, and I plan to make up for some lost time. Fortunately for me, my school, bank, shopping destinations, grocery store, gyms, recreation, restaurants and lots of friends are only a short ride away.
Here's to going "the greenest mile."