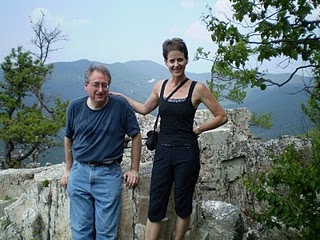 I've been experiencing posting withdrawal!
Almost as soon as school was out on June 21, I left for a much anticipated hiking trip to the Shendandoah National Park with my beloved soul mate cousin, Earl III. (Almost immediately afterward, I went to my hometown of Laurel, MS, for a week. See my next post.)
Earl comes the closest to a Renaissance Man of anyone I know: he is a very ethical attorney for Shell Oil in Houston (we had some interesting mountaintop discussions about BP), a musician, a writer, a fairly serious art collector, a great cook, and an intrepid hiker to boot. Oh, and an avid reader. In the car on the way home, he read selections from Mihaly Csikszentmihalyi's new book, Flow. When we couldn't take it any more, we stopped for a low-brow moment at the Citgo station: a box of fried potato wedges we ate in the car.
One full day of hiking was sandwiched between half-day hikes on our arrival and departure days. At night, we roughed it in a 2-bedroom/2-bath suite at the brand new Marriott Residence Inn in Waynesboro, no more than 10 minutes from the southern entrance to the Park at Fish Gap. (Earl said he didn't want insects crawling on him in the middle of the night, so no cabins for us.)
At the local market, we stocked our room with cashews, wine, soymilk and the like for before-dinner gnoshing. Breakfasts were complimentary and quite impressive. Dinner on the patio of the South River Grill & Wine Shop in Waynesboro the first night was very respectable. (The bottle of wine we brought home was even better: Stone Mountain Vineyards 2008 Pinot Grigio.) Dinner the second night at Emilio's in historic and quaint Staunton (just about 10-15 minutes away) was exceptional (I lapped up a scrumptious bowl of vegan minestrone with some of Earl's crunchy-juicy bruschetta). Lunch going and coming was the aforementioned potatoes (hardly balanced, but we made up for it at other meals). And in the middle of our full day of hiking, we stopped at a "wayside" located in the park where I enjoyed a very satisfying veggie burger.
Summer is a terrific time to visit the Park, as it's the shoulder season, so there are few fellow hikers and campers. It is perhaps most beautiful in fall, but lines of cars to get into the Park can be a mile long or more. Fortunately, we're having a reasonably cool summer, often in the 80s, so we were very happy to be outdoors. Though, there are few people, there are apparently plenty of bears. The people we did run into all had a bear story. And ever since we began planning this trip, our mothers, who are sisters, have spoken of nothing but bears. When I told Earl that this trip was a kind of spiritual quest for me (both the destination and the opportunity for he and I to travel together), he said, "Oh, you mean like J.R.R. Tolkien only with bears?!" Alas, we saw no bears, just fresh bear scat (with, as Earl likes to add, a human finger in it), a deer, a turtle, some birds and an utterly spectacular snake.
It was also an utterly spectacular trip. It's always good to come back, though I'm looking forward to exploring the upper reaches of the Park, entering from the D.C. side where Earl sometimes goes on business.