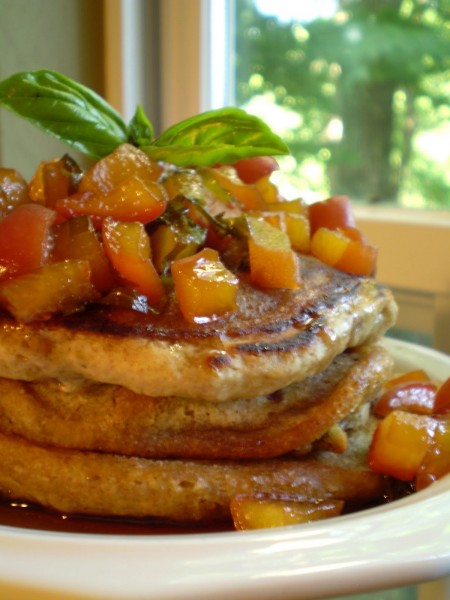 Yield: 4 servings
Las Vegas not the first place you think of when someone mentions gourmet vegan food?  Me either.
But that's about to change thanks to the chefs at The Wynn Resort-Las Vegas teaming up with celebrity vegan chef and cookbook author, Tal Ronnen. Together, they created a vegan menu even a meat-craving–or carving–high roller would love.  (I am a longtime Ronnen fan and owner of his bestselling cookbook, The Conscious Cook.)
To help introduce their vegan menu to a broader public–so that what happens in Vegas doesn't stay in Vegas(!)–The Wynn invited vegan bloggers like me to adapt one of the dishes Ronnen created for their menu and share both the recipe and rationale.  Such an invitation gave me pause because the last thing any of his dishes need is adapted.  They all look gorgeous and sound delicious.
But, since our area of coastal Virginia has been bitten hard by the craft beer craze and since peaches grow so beautifully here in the south–never mind that ginger and basil are such a perfect pairing with peaches–I decided to combine them to create my own version of Peach Pancakes.  The Wynn's are served with peach compote and honey butter so, mind you, mine are not an improvement on theirs; rather just a twist…or a flip, as it were.
Usually I beg off when my husband books a trip to Vegas, but the next time he decides to head out there for a UFC event, I may just have to tag along to enjoy dining at The Wynn!
Las Vegan anyone?
Fresh Vegan Peach-Basil-Maple-Ale Chutney
2 medium peaches, seeded and medium-finely diced (I leave the skin on for more color and nutrition)
1 cup "ale" (use your favorite craft beer or ale)
2 tablespoons apple cider vinegar
8 large basil leaves, stacked, rolled, and very thinly sliced to make chiffonade
2 tablespoon demerara sugar (or substitute an additional tablespoon of maple syrup)
4 tablespoons maple syrup
Stir together all ingredients in a small or medium saucepan and simmer over medium-high, uncovered, while you make the pancakes or until the juice has reduced and chutney has thickened.
Vegan Ginger-Ale Pancakes
½ cup whole wheat flour
½ cup self-rising flour
2 tablespoons natural or brown sugar
1/4 teaspoon ground ginger or to taste (or about 2 to 3 teaspoons fresh grated ginger)
½ teaspoon baking powder
¼ teaspoon baking soda
1/2 cup "ale" (the remainder of the 12 ounce bottle used in the chutney, above)
1/2 cup unsweetened non-dairy milk (plain or vanilla, lite or regular, would also be good)
Vegan butter and/or vegetable oil for frying
Fresh Vegan Peach-Basil-Maple-Ale Chutney
Sprigs of fresh basil
Preheat oven to warm. In a medium mixing bowl, place first 6 dry ingredients. Make a well in the center and pour in beer and soymilk. Whisk together until well combined. In a large cast iron skillet or griddle over medium-high heat, melt 1 tablespoon of the vegan butter, oil or a combination. (I like a combination: the oil reduces chances of burning while the butter contributes flavor.) Using a scant 1/4 cup measure, make pancakes, two at a time. Cook two-three minutes on the first side until you get a nice rise, a few bubbles appear, and the edges appear set. Gently flip and cook another couple of minutes on the reverse. Add butter and/or oil to keep skillet greased as needed. If pancakes are cooking too quickly, lower heat to medium, especially for second side. When cooked through, remove pancakes to plates or a serving platter, keep warm, and repeat with remaining butter or oil and pancake batter. Serve each short stack with Fresh Vegan Peach-Basil-Maple-Ale Chutney spooned over the top and a sprig of fresh basil.