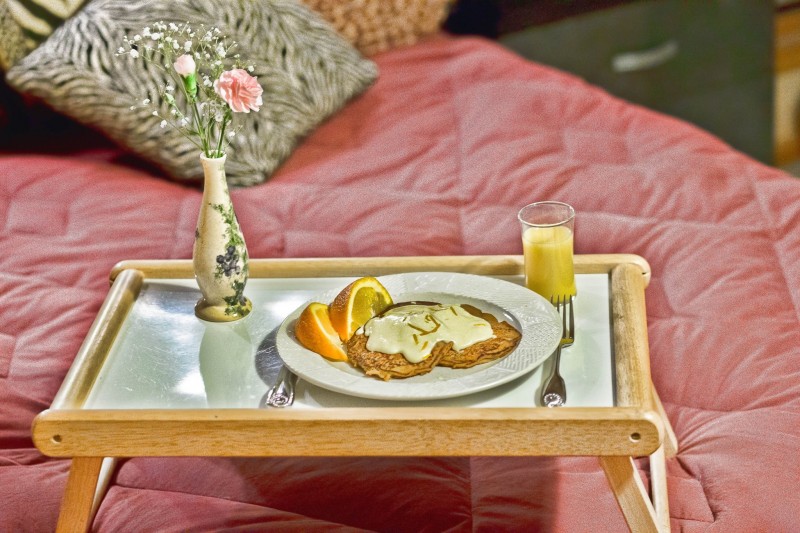 First let me start by saying that the photo I took does not do today's recipe justice. I chose Carrot Cake Pancakes and messed up so many times I lost count but no matter – they were still delicious. Let me explain.
I made my list and braved the grocery store on a Sunday afternoon. This was my first mistake. I should have known when I walked in and there was only one cart left. I was moving right along until I had to search for arrowroot powder. Not knowing what it was I assumed it was on the spice aisle so I finally got my cart through the masses until I was standing in front of the alphabetized spice display but sadly, no arrowroot. Hmmmmm… I kept searching but I eventually had to get out of everyone's way. I found a clear spot and looked it up online. It was compared to cornstarch. No problem – I have that at home. Moving on to the juice aisle for pineapple and orange juices. And I'm done! Finally!
Now we had decided to have breakfast for dinner so I started preparing them, so happy that it looked like an easy recipe. I went to get the pineapple juice to pour into the flour mixture and…no pineapple juice anywhere. I searched the fridge, the pantry, under counters and in the truck. Somehow it never made it home and I am NOT going back to the store. So I had to use orange juice. The batter still looked ok after I added the carrots and nuts (I used pecans) so hopefully I'm fine.
Next I decided to do the cream cheese topping before cooking the pancakes. I went to get the cornstarch and I didn't have that either. WTH!!! Is this really happening?? I remember my mom always substituted flour for cornstarch so that's what I did, except I added all the orange juice to the flour not just a couple tablespoons. I give up! I threw everything for the sauce in the pot and let it fight its own way to some form of a cream sauce. And that, my friends, is why my photo looks more like potato cakes and gravy instead of beautiful carrot cake pancakes. Sorry!!!
The good news… they were consumed so fast that it did not matter what they looked like!! This recipe is definitely a keeper.