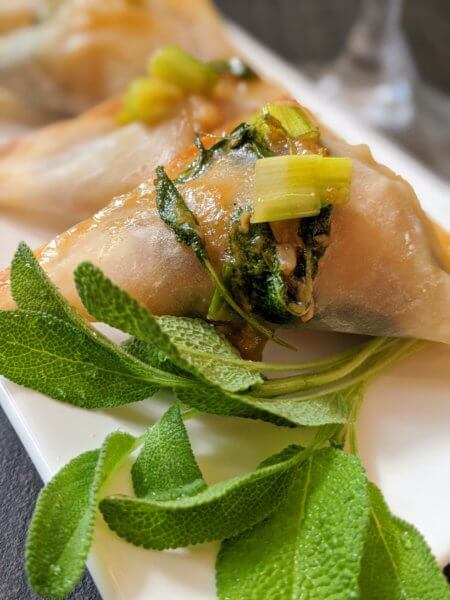 Yield: 2 appetizer servings or 1 main dish serving (easily multiplies)
To say I am obsessed with no soya brand wonton wrappers would be an understatement. I love them for fried ravioli, fried wontons, and now baked ravioli.
But as much as I love them, I may love my miso butter sauce even better!
6 wonton wrappers
3 tablespoons cooked filling (I used a mixture of mashed butternut squash, caramelized onion, sliced green onions, shredded mozzarella, and minced garlic)
2 tablespoons vegan butter
2 tablespoons yellow miso
1 tablespoon sliced green onion
1/2 cup vegan dry white wine
8 small leaves fresh sage
Garnish: Fresh sprigs sage
Preheat oven to 350 degrees. On a small baking sheet, lay out the wonton wrappers. One at a time, wet edges by dipping your finger in a cup of water and running around the edge. Place one and a half teaspoons filling in the center, full dough over, and seal edges. Repeat with remaining filling and wonton wrappers. Sprit slightly with non-stick spray or oil and fake for 10 minutes or until golden brown.
While ravioli bakes, make sauce. In a skillet over medium heat, whisk together all ingredients. Simmer to heat through. When wontons are baked, remove from oven, plate, and pour sauce over. Garnish and serve immediately.
#veganwontonravioli #plantbasedwontonravioli vegan #veganrecipes #veganfoodshare #veganfoodporn #plantbased #plantbasedrecipes #plantbasedfoodshare #plantbasedfoodporn