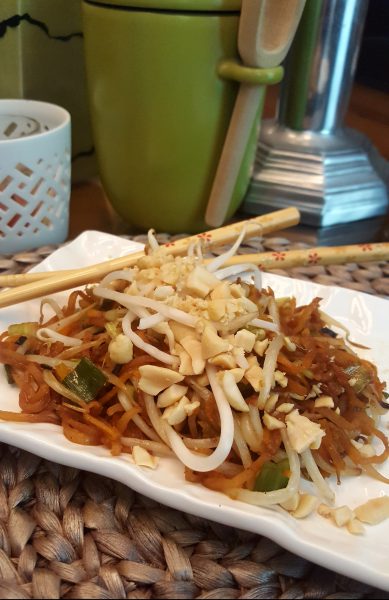 Yield: 2 servings (easily multiplies)
I love Pad Thai–heck, I adore all Thai food–but I rarely let myself make or order it because it packs a wallop in the calorie department.
But last weekend, I was in Whole Foods, and saw a beautiful rainbow of spiralized vegetables. I chose the butternut squash and the turnip and brought them home. I roasted them together in a 450-degree oven with a tiny bit of oil, but then I wasn't sure what to do with them.
But when my friend shared her homemade Asian fusion birthday dinner with me via Facebook last night, I woke up with thoughts of Pad Thai on my mind. After some beautiful days in the 60s, it is suddenly in the 90s here and I didn't want to be in the kitchen long. So I whipped up a quick version that I would eat again and again. See if you agree.
1 tablespoon rice wine vinegar
2 tablespoons vegan fish sauce
2 to 3 tablespoons sugar (I used coconut sugar)
1 tablespoon vegetable oil
1 1/2 cups bean sprouts
2 large green onions sliced, both white and green part
2 cups roasted or steamed spiralized vegetables (I used a combination of butternut squash and turnip)
1/2 large lime
2 tablespoons chopoed roasted and lightly salted peanuts
In a small bowl, whisk together first three ingredients. Pour oil into large skillet and heat over medium-high. Add bean sprouts and stir fry for a minute or two followed by green onions. Add spiralized vegetables and stir fry for another minute or two. Divided between two plates and sqeeze the juice of one quarter of the large lime over each. Top each with one quarter cup remaining bean sprouts and one tablespoon of chopped peanuts. Serve immediately with chopsticks.