November whizzed past and it's already that time again…
Based on Inside the Actor's Studio host's James Lipton's famous "Q & A"–after the Proust Questionnaire–"Vegan Q & A Tuesday" is The Blooming Platter's  first Tuesday feature on a creative force in the vegan culinary world.  Read more about "Q & A Tuesday" HERE.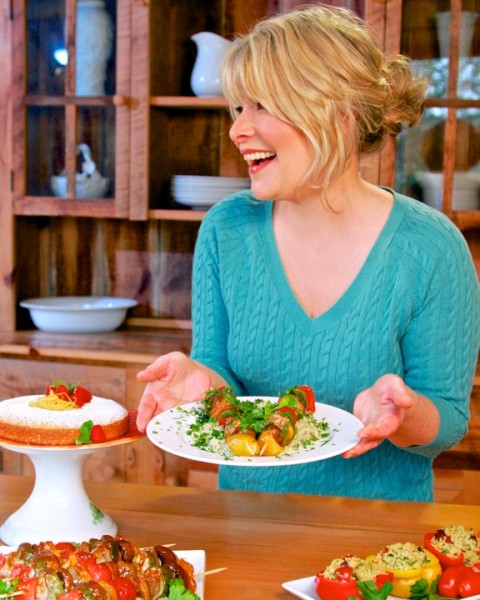 Featured Force: 
Laura Theodore

[See below for Laura's Spaghetti and Wheatballs recipe.]
Laura Theodore is a television personality and radio host, vegan chef, cookbook author, and award-winning singer. She is the creator of the Jazzy Vegetarian, and author of Jazzy Vegetarian: Lively Vegan Cuisine Made Easy and Delicious and Jazzy Vegetarian Classics: Vegan Twists on American Family Favorites. Laura is the on-camera host and writer of the Jazzy Vegetarian Television Series on PBS and hosts the weekly show, Jazzy Vegetarian Radio. Ms. Theodore has appeared on ABC, NBC, CBS, and USA Networks and has been featured in the NY Times, Family Circle, NY Daily News, NY Post, Readers Digest and VegNews.
Laura Theodore and Jazzy Vegetarian have been honored with a
2014 Special Achievement Taste Award
and nominated for three 2014 Taste Awards, 
including a VIEWERS CHOICE AWARD:
"Best Home Chef in a Series"! 
Please consider voting for Jazzy Vegetarian here!     
1. What is your favorite word? Delicious
2. What is your least favorite word? Burnt
3. What turns you on? I love the smile on the faces of friends and family when I have served them a meal that they truly savor. Makes me feel like I have accomplished a good deed!
4. What turns you off? Creating a new recipe that I am SO excited about and it just does not taste right. Well – if at first you don't succeed try again!
5. What sound or noise do you love? Hearing friends and family (at our dining table) raving about the dinner while I am in the kitchen prepping the next course!
6. What sound or noise do you hate? Me, cursing as I drop food or utensils on the kitchen floor when I am trying to do too many things at once!
7. *What makes you curse in the kitchen? Me – dropping food or utensils on the floor when I am trying to do too many things at once!
8. What profession other than your own would you like to attempt? Broadway producer. I love musicals.
9. What profession would you not like to do? Doctor or Nurse
10. If heaven exists, what would you like to hear God say when you arrive at the pearly gates? Glad you are here! I am looking forward to hearing a song and tasting those Spaghetti and Wheatballs!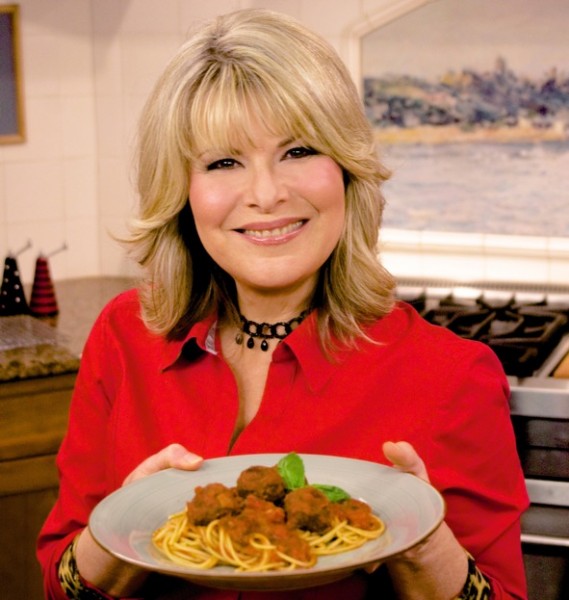 Spaghetti and Wheatballs
Makes 3 to 4 servings (12 to 14 Wheatballs)
By Laura Theodore
1 1/3 cups lightly packed, fresh soft whole-grain bread crumbs (see note)
1 teaspoon Italian seasoning
1/2 teaspoon garlic powder
1/8 teaspoon sea salt
1/2 cup chopped walnuts
2 cups chopped mushrooms
1/2 cup diced onion
3/4 pound whole-grain spaghetti (see note)
3 cups prepared vegan marinara sauce
Preheat the oven to 350 degrees F. Line a medium baking pan with unbleached parchment paper.
Put the bread crumbs, Italian seasoning, garlic powder, and salt in a large bowl. Put the walnuts in a blender or food processor, and pulse to process into coarse crumbs. Add the walnuts to the bread crumbs and stir gently to incorporate.
Put  the mushrooms and onion in a blender or food processor, and process to a chunky purée. Add the mushroom mixture to the walnut/bread crumb mixture and stir to incorporate. Spoon out about 1 1/2 tablespoons of the mushroom mixture and roll it into a ball. Continue in this way with the remaining mushroom mixture. Arrange the wheatballs on the lined baking pan. Bake for 25 to 30 minutes. Gently rotate each wheatball and bake for 12 to 16 minutes more, or until they are crisp and golden.
Bring a large pot of salted water to a boil. Add the spaghetti and cook, stirring occasionally, until tender but firm. Drain the spaghetti well.
Meanwhile, pour the marinara sauce in a medium saucepan. Bring the sauce to a simmer over medium-low heat. Gently add the wheatballs to the sauce, one at a time, cover, and simmer for 7 to 10 minutes.
To serve, put one-quarter of the spaghetti into each of four pasta bowls, and top with three or four wheatballs. Ladle marinara sauce over the top and serve immediately.
NOTES
·         To make fresh bread crumbs: Put 3 to 4 slices of whole-grain bread in a blender or food processor and process into coarse crumbs.
·         You may use your favorite gluten-free pasta in this recipe.