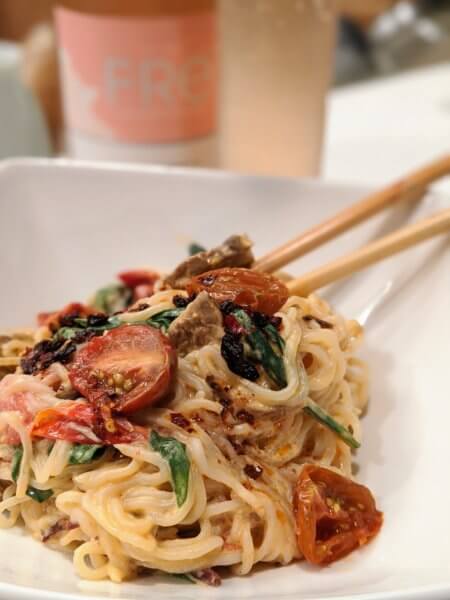 Yield: 2 servings with accompaniments
My riff on a classic BLT sandwich, right down to the Mayo-based sauce, is quick, easy, and filling. Oh, and irresistible.
I make it with Shiritaki noodles–only 0 to 10 calories depending on the type for the whole 8 ounce package–and Walton Farms no-calorie mayo. (The mayo isn't great on its own, but quite nice with other strong flavors.)
I use tempeh "bacon," kale in place of lettuce, and griddled cherry tomatoes. A BLT isn't a BLT without mayo, so the sauce is a Sizchuan Hot Chili Oil Aioli, hence the chopsticks.
2 tablespoons mayo (I use Walton Farms no-calorie mayo)
1 tablespoon Hot Chili Oil, divided (I buy Spicy Chili Crisp on the Asian food aisle at Kroger, decant into a larger jar, and add more oil–sometimes a blood orange-infused olive oil–sea salt, and sliced garlic softened 30 seconds in microwave)
6 slices tempeh bacon
6 tri-color cherry tomatoes, halved
4 ounces dry pasta, cooked (I use an 8 ounce package of 0 to 10-calorie Shiritaki spaghetti, drained)
1 lightly packed cup baby kale or spinach
Sea salt and freshly ground black pepper to taste
In a medium microwave-proof bowl, whisk together mayo and 2 teaspoons chili oil; set aside. In a skillet or grill pan heated over medium to medium-high, griddle tempeh and tomatoes, cut side down, turning tempeh once, until heated through. You may need to remove tomatoes first, as they should still hold their shape. Drain pasta, add to bowl with aioli, and top with kale. Microwave for 1 to 2 minutes or until heated through and kale is slightly wilted. Stir well with a fork to distribute the sauce evenly. Cut tempeh into bite-size pieces and add along with tomatoes, sea salt and freshly ground black pepper. Toss gently to combine and serve drizzled with remaining teaspoon of hot chili oil.
#vegan #veganrecipes #veganfoodshare #veganfoodporn #plantbased #plantbasedrecipes #plantbasedfoodshare #plantbasedfoodporn #veganpasta #plantbasedpasta