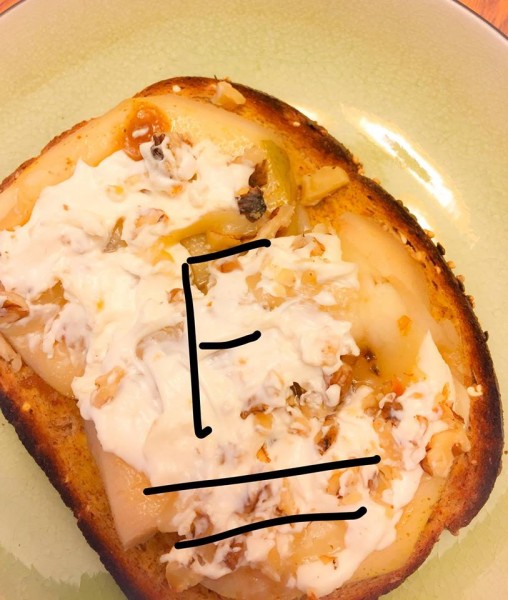 (A sequential installment from Kim Hastings, my photographer friend and, along with her vet husband, owner of Independence Veterinary Hospital, who decided on her own to cook her way through The Blooming Platter Cookbook: A Harvest of Seasonal Vegan Recipes Julie & Julia Style for her omnivorous family as a strategy for more healthy eating.)
[Betsy's Note: the "F" on Kim's photo is the grade she gave herself for her adlibbed cheese layer of the sandwiches, NOT for the recipe.]
Today I was super ambitious and decided to take on two recipes.
The first one, Curried Couscous, was the easiest one I have made to date. My biggest challenge was the fact that I had no idea what couscous was. My family has never eaten it. So of course I'm standing in the rice aisle at the grocery store searching up and down. I suppose I looked lost because two of the store managers who were in a deep discussion behind me stopped and walked over to see if I needed help. I said I was looking for couscous explaining that I had never used it before and one pointed it out to me and then proceeded to show me all the different kinds. The other manager told him to stop confusing me and just handed me a box of the plain. They were both so kind that I took two and was on my way.
Putting this recipe together was totally uneventful, thus a real confidence builder for me. I'm totally getting the hang of this vegan cooking… until I took on the Pear Walnut and "Blue Cheese" Sandwiches.
Ok I had already decided that my "blue cheese" wasn't going to have quotation marks around it. I was buzzing on a total confidence high from the couscous. Pears, bread, mustard, and brown sugar? I got this! The assortment of flavors sounded a little strange, but one thing I have learned from cooking The Blooming Platter is to just go with it and it all comes together in the end.
So I now have the sandwiches under the broiler and go to the fridge for my cheater blue cheese dressing and once again…I can't find any. It's gone. So now what? The sandwiches are now out of the oven and sitting on top of the stove not looking so appetizing to me (I was really looking forward to the blue cheese). I searched the fridge again hoping it would magically appear. It did not. So I started reading the recipe for the "blue cheese" and I have none of those ingredients. Time to get creative I guess.
I chose pepper jack cheese and cream cheese – I know, don't judge me – and I layered it on the sandwiches and put them back under the broiler. Then I remembered I forgot to put the walnuts on it so I quickly took it back out and buried them under the cheese. It came out a little burnt around the edges so I cut the crust off and I honestly did eat it for lunch. I have to say it wasn't bad!
I did not make this for my family because they really don't like pears for one, and two, they would definitely object to using fruits with mustard and cheese; and my husband hates walnuts as well. I can definitely say I will be making both of these again. The couscous tasted really good! We served it right out of the pot so fast that I did not get a photo of it but it was beautiful. However I regret to say that I did get a photo of the "sandwich" even though I am sure it looks nothing like a pear, walnut and blue cheese sandwich. I promise to do it by the (cook)book next time!
~Kim Howard Hastings