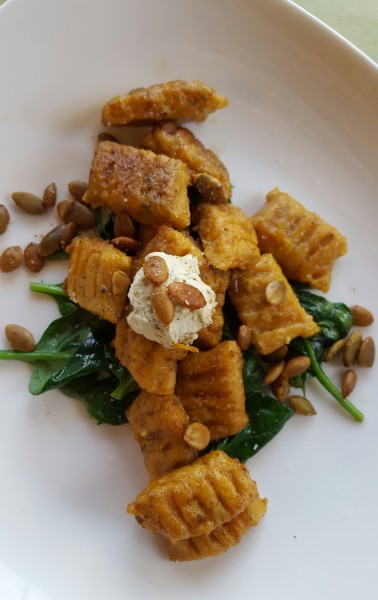 Yield: approximately 32 gnocchi or 4 small-ish servings
Quite simply, this is possibly the best version of this type of"dream meal" I have ever tasted, much less prepared.  And, once the squash is roasted, it is surprisingly quick and easy.  I sage in the dough and the sauce, rubbed in the former, fresh in the latter.  But, I didn't have fresh sage (a frost got mine), so I used a pinch of the rubbed in the sauce and derived plenty of green color from the wilted greens.
*Do ahead: roast butternut squash
Vegan Browned Butter
*1 cup roasted butternut squash (I roasted cubes for about 30 minutes at 450 degrees with a little olive oil and sea salt)
1 cup all purpose flour (I used white whole wheat) + another 2 to 3 tablespoons for rolling
1/2 teaspoon salt
1/4 teaspoon rubbed sage
1/8 teaspoon garlic powder
Lightly wilted spinach or your favorite green
Garnishes: Dollop of your favorite creamy nut cheese and toasted pumpkin seeds or other nuts
Vegan Browned Butter
2 tablespoons vegan butter
Optional (but recommended): 1/2 teaspoon nutritional yeast
1/8 teaspoon rubbed sage (or 2 to 3 fresh sage leaves, rolled, and sliced, i.e. chiffonade)
1/8th teaspoon garlic salt
Optional: a few drops of olive oil
In a cast iron skillet over medium-high, melt 2 tablespoons of butter and, stirring frequently, cook until it begins to brown, about 5 to 8 minutes.  Stir in nutritional yeast, if desired, sage, and garlic powder, and stir for about 30 seconds while nooch and garlic powder toasts and sage leaves wilt.  Reduce heat to low and stir in a drop or two of olive oil if a slightly thinner sauce is desired.  Keep warm over low heat.
Vegan Butternut Squash Ravioli
In a medium-large bowl, mash roasted butternut squash with a potato masher or a fork.  Using fingers, gently combine mashed squash with flour, 1/4 cup at a time, just until you achieve a moist but stiff dough, that is very easy to handle.  (Depending on the moisture content of your squash, it may require more or less flour.) Avoid over-mixing.  Divide dough into thirds and, on a lightly floured work surface, roll each third into a rope about 1-inch in diameter.  With a sharp knife, cut ropes into 3/4-inch pieces.  Press tops gently with the tines of a fork.
Cover two of the ropes with a dish towel and simmer the gnocchi cut from the third rope for 2 to 3 minutes or until they rise to the top. Remove with a slotted spoon, drain quickly over pot, and then transfer to skillet with browned butter.  Add the gnocchi cut from one of the other ropes to the simmering water and while they cook, saute the cooked gnocchi a couple of minutes with the browned butter, stirring frequently, until golden brown in spots. Remove to a covered dish to keep warm.  Repeat cooking process with remaining gnocci until all have been simmered and sauteed.  Serve over wilted greens and top with a dab of  nut cheese and a sprinkling of roasted pumpkin seeds.