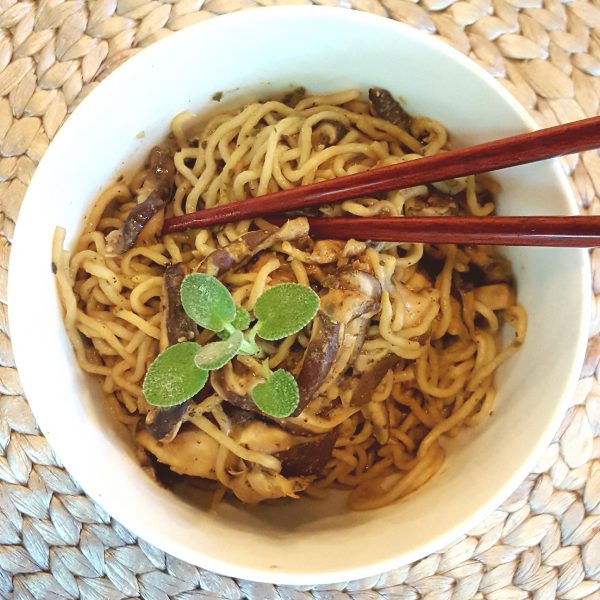 A heaping bowl full of vegan umami… and only 75 calories for the entire meal!
By now, most of you know that my secret to being able to eat 8 ounces of cooked pasta and only sacrificing 20 calories (as opposed to hundreds) is Shirataki.
And because it is so light, it seems to call out for lighter, brighter ingredients. But today for some reason, I was really craving depth of flavor and that Indescribable umami.
So I went in deep and earthy with mushrooms, miso paste, and sage. My trick to making calorie dense pastes stretch is too thin them with a bit of water. This works beautifully for miso paste, nutbutters, and the like, although miso paste isn't nearly the calorie hit that nutbutters are.
Here's my simple recipe:
Vegan Unami Mushroom Pasta
Yield: 1 serving
3 tablespoons water
1 tablespoon yellow miso paste
1 cup sliced fresh shiitake mushrooms
1-8 ounce package Shirataki, rinsed and drained
1 tablespoon minced fresh Sage or one teaspoon dried (but I highly recommend the fresh)
1/8 teaspoon garlic powder
Sea salt and freshly ground pepper to taste
In a large skillet over medium-high or medium heat, whisk together water and miso paste until well combined. Add mushrooms and saute for a couple of minutes until coated with the miso sauce and softened. Stir in remaining ingredients except garnish. Serve immediately in a bowl topped with a sprig of fresh Sage.
Though this dish isn't particularly Asian with the addition of the sage, I love to eat it with chopsticks because of the Shirataki and the Miso and just how much fun it is.
#vegan #veganrecipes #veganfood #veganfoodshare #veganfoodporn #plantbased #plantbasedrecipes #plantbasedfood #plantbasedfoodshare #plantbasedfoodporn