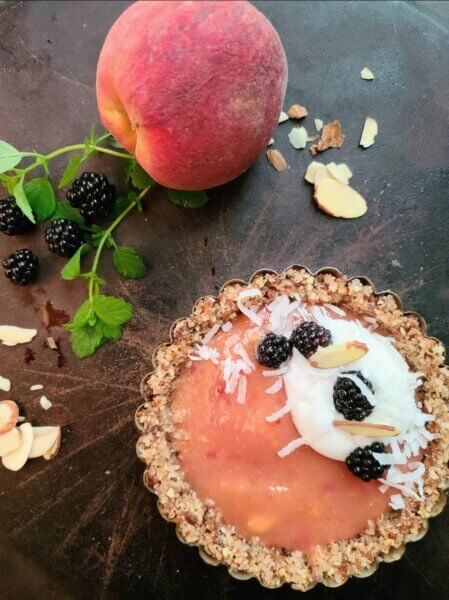 Yield: 4 servings
A gift of fresh peaches–the first of the season–inspired these beautiful ready-in-a-flash tarts with their delightfully textured raw vegan crusts and creamy sweet-tart filling. The garnishes I chose were barely sweetened vegan sour cream, blackberries I picked on a walk in the woods, shredded coconut leftover from our wedding cake, sliced almonds, and lemon balm I grow in a pot outdoors.
Welcome, Summer!
Make filling and set aside to cool:
1/2 cup sugar
1 tablespoon cornstarch
2 medium peaches including skin, pitted, and processed in food processor until smooth
Juice 1/2 large lemon
2 tablespoons non-dairy milk
Optional: 1 tablespoon peach liqueur
1/2 teaspoon almond extract
In a small saucepanover medium or medium-low heat, simmer together all ingredients except almond extract, whisking continually, until very thick. Whisk in almond extract. Set aside to cool. Mixture will continue to thicken as it cools.
Make Raw Vegan Date, Nut, Coconut Crust:
1 cup slivered or sliced almonds or a combination pecans and almonds
1 cup shredded coconut, sweetened or unsweetened
8 dates
Pinch sea salt
Process together in food processor until ingredients are minced and hold together when pinched. Divide into fourths and press evenly onto bottom and sides of four 5-inch tart pans. Divide filling evenly among shells, smoothing tops, and garnish as desired.
#veganveganrecipes #veganfoodshare #veganfoodporn #plantbased #plantbasedrecipes #plantbasedfoodshare #plantbasedfoodporn #vegansofinstagram #vegansoffacebook #plantbaseddesserts #vegandesserts #plantbasedpeachtarts #veganpeachtart #plantbasedtarts #vegantarts