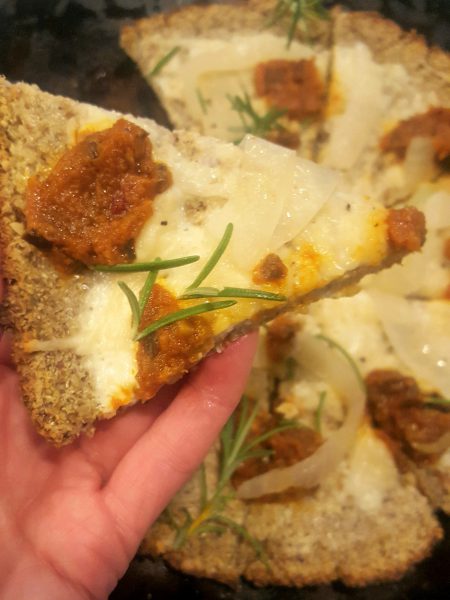 Eureeeeeeka!
My Vegan Cauliflower-Oat Pizza Crust retest was a success…the slices now hold up with no precooking of cauliflower, like virtually all other recipes!
This success makes me ridiculously happy after my failed attempt last night. I hate to be thwarted.  The keys?  Slightly thicker crust and optimal cooking times.
Blooming Vegan Cauliflower-Oat Pizza Crust
(only 200 calories for entire crust)
2 1/2 cups cauliflower florets
1/2 cup old fashioned oats
2 tablespoons flax seed meal or ground chia seed
1/4 to 1/2 teaspoon garlic powder
Sea salt to taste
Preheat oven to 450 degrees.  Spray baking stone very well with nonstick baking spray.   Process ingredients in a food processor until the consistency of slightly course cookie dough.  Press into a disk 1/2-inch thick (no thinner) on pizza stone.  It should be about 8 inches in diameter.  Bake 20 minutes.  Carefully flip and bake 5-6 minutes more. Top as desired–but avoid thick heavy toppings if you plan to lift the pizza slices by hand–and bake another 5 minutes.  Cool 3-5 minutes, slice and serve.
Note about flipping: I used one of those plastic cookie flipping devices that slides under a batch of cookies, as it will slide under the whole crust.  They are inexpensive, but if you don't have one and don't want to purchase one, perhaps bake the crust on oiled foil over a baking sheet and then carefully flip onto oiled baking sheet.
#vegan#veganrecipes#veganfood#veganfoodshare#veganfoodporn#plantbased#plantbasedrecipes#plantbasedfood#plantbasedfoodshare#plantbasedfoodporn