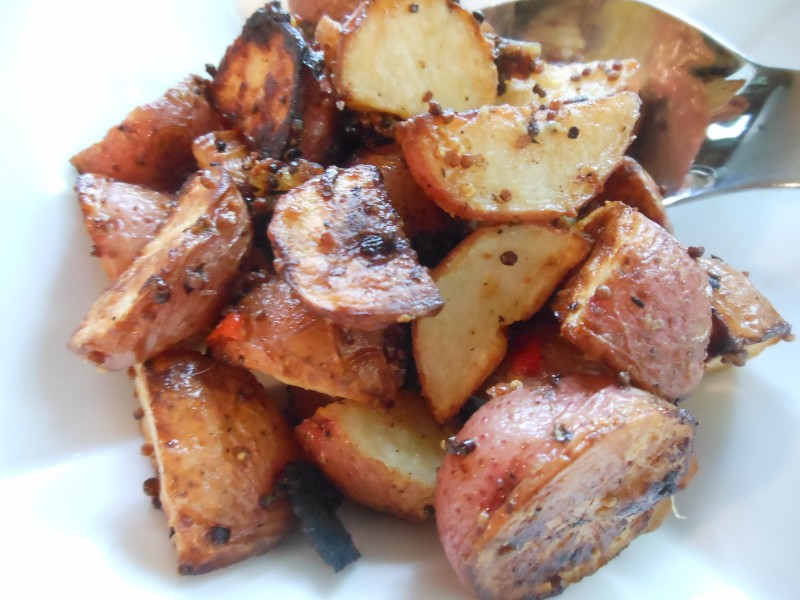 Yield: 4 servings as a side dish
This recipe is based on one of Ina Garten's, the Barefoot Contessa, as seen on the Food Network. My main changes are the addition of fresh minced mild chili pepper, which is optional, and garlic.
I had seen the introduction to one of her shows recently, where she mentioned these potatoes, but I didn't watch it. So, when our farmer's market had beautiful new potatoes that they call "creamers" this week, I bagged some planning to make the recipe, as I knew I could find it online. And I did.
But I didn't write it down; I just created it from memory, adding a couple of ingredients. They are just delicious and quite beautiful…something about those mustard seeds.
3/4 pound golf ball size new potatoes (quartered; halved if potatoes are smaller)
1 medium onion, halved, and sliced into 1/4-inch thick slices
1/4 cup olive oil
2-3 tablespoons stone ground mustard
1/2 teaspoon sea salt
1/4 teaspoon freshly ground black pepper
Optional: 2 teaspoons finely diced mild red chili pepper, seeds and membranes removed
1 large clove garlic, minced
Preheat oven to 425 degrees. Oil a large roasting pan and place potatoes and onions in a single layer in the pan. In a small cup, whisk together olive oil, stone ground mustard, sea salt, and pepper. Drizzle over potatoes and onions, and toss well to completely coat; I like to use my hands for this task. Roast for 30 minutes, stirring every 10 minutes. Sprinkle chili and garlic over potatoes, stir to distribute, and roast 20 more minutes, stirring after 10, or until potatoes are very crispy and brown and some of the onions are charred. Serve immediately.