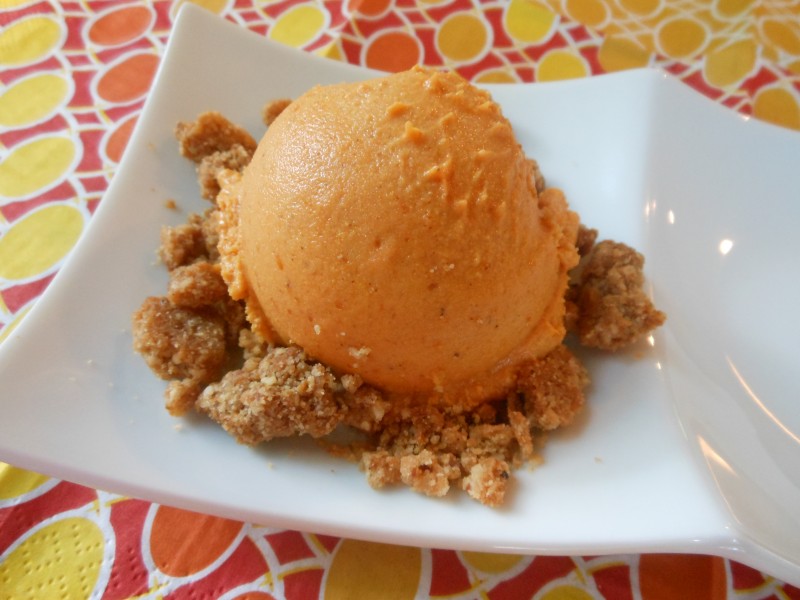 Yield: 1 quart
This is the perfect summer-into-fall recipe!
I love the challenge of developing recipes exclusively for Tofutti Brands, Inc.  When they recently requested a parve recipe for pumpkin ice cream, I mentally created the recipe for a Pumpkin Cheesecake Ice Cream, as I wanted to use their Better than Cream Cheese; and then I set out on a hunt for certified parve products in our local Kroger.
Imagine my delight when every single ingredient I wanted to use, save graham crackers, qualified, provided I chose specific brands!  And I was able to substitute matzo meal for the graham crackers in the crumble topping with a wonderful outcome.
Parve or not, I trust you will rave about this beautifully colored, creamy textured ice cream like my guests have.  And you might be as excited as I was to learn that it is delicious served as a mousse before freezing!
Note: the specific brands of products listed are pareve.  If you adhere to a Pareve diet and choose other brands, be sure to look for the identifying symbol on the package.  Also, when selecting Tofutti Better than Cream Cheese–or Better than Sour Cream–please note that they company offers two kinds:  one contains transfat and one does not; I opt for the latter.
8 ounces Tofutti Better Than Cream Cheese
1/2 cup Sugar in the Raw natural turbinado sugar
1-15 ounce can Libby's pumpkin puree
1-15 ounce can Coco Lopez Cream of Coconut
1 teaspoon vanilla extract
3/4 teaspoon ground cinnamon
1/2 teaspoon ground ginger
1/8 teaspoon ground cloves
"Graham Cracker" Crumble Topping (recipe follows)
Place Better than Cream Cheese, sugar, and pumpkin puree in the bowl of a food processor and process until smooth, scraping down sides of bowl as necessary. Add cream of coconut, vanilla extract, cinnamon, ginger, and cloves and process until completely combined, again scraping down sides of bowl as necessary. Chill mixture for several hours, freeze in an ice cream maker according to manufacturer's directions, transfer to a covered carton, and chill for several hours to "ripen."   Serve sprinkled with "Graham Cracker" Crumble Topping, if desired.
Chilled, but not frozen, this delectable ice cream base makes a beautiful, creamy mousse.
"Graham Cracker" Crumble Topping:
1 cup matzo meal
3 tablespoons Sugar in the Raw natural turbinado sugar
1/8 teaspoon sea salt
5 tablespoons melted Earth Balance Original Buttery Spread, melted
1 tablespoon pure maple syrup
Preheat oven to 350 degrees. Line a baking sheet with Silpat or parchment paper. In a small bowl, combine all ingredients with a fork.   Press into a 1/4-inch thick circle on prepared baking sheet and bake 25 minutes or until golden brown; check after 20 minutes. Allow to cool, and break into pieces or crumbs of the desired size. Store in a covered container at room temperature.
Note:  For parve maple syrup, sea salt, ground spices, and vanilla extract, look for brands like Camp, Dan-D's Foods, Danon Foods, Gefen, Liebers, Now Foods, Pereg, Prima, Sobeys Foods, Sobeys West, Victorian Epicure, etc.