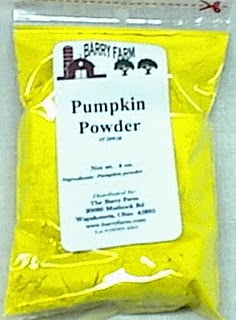 If you're not familiar with dehydrated pumpkin powder, I want to introduce you to one of my favorite kitchen companions. I am an absolute "freak" for pumpkin, but sometimes the water content is too high for the desired results, meaning that in order to achieve a rich pumpkin flavor, sometimes the dough or batter becomes too moist.
Enter dehydrated pumpkin powder. I order mine from Barry Farm Foods, but if you "google" the product, you will find a variety of sources. Barry Farm sells theirs in 4 ounce bags, but you can also purchase it from other sources in one-pound jars and even in bulk.
I use it in my Vegan Chewy-Crisp Pumpkin Cookies, but I want to experiment with it in a pasta dough.
They also carry a variety of other powders, like artichoke, for which I have big plans! Mmm…
Image Credit: Barry Farm Foods website. (Note: in actuality, the powder is not this yellow; it's more yellow than what you might think of as "pumpkin-colored," but it's not electric!)