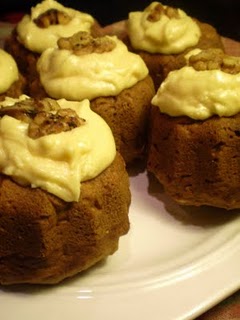 Yield: 6 mini-pumpkins or one 5-8″ loaf
Homecoming week at our school happens to fall on Halloween weekend this year. So I wanted to bake up a little treat for our administrative team. A nip in the air and a can of pumpkin puree in the pantry made the flavor an obvious choice. I started to just bake the batter in a loaf pan when I remembered my mini-bundt cake pan. (Mine has an indention or depression rather than a hole all the way through, and produces miniature cakes that resemble pumpkins.) Though it only makes 6 little cakes, it seems our six administrators and their assistants are always watching what they eat, so I figured a half-pumpkin each would be perfect.
This recipe is the same as my Vegan Banana Bread with Peanut Butter Streusel only with pumpkin substituted for banana and no streusel. To make the little pumpkin cakes look more festive, I frosted them and topped each with a candied walnut half. This is my idea of a perfect pumpkin patch.
Happy Hallow's Eve!
Batter:
1 cup all purpose flour
1 cup whole wheat flour
(or substitute 2 cups white whole wheat flour for both flours)
½ cup packed brown sugar
½ cup oatmeal
1 teaspoon cinnamon
1/2 teaspoon ground ginger
1/4 teaspoon allspice
1 teaspoon baking powder
½ teaspoon baking soda
½ teaspoon salt
1/2 cup canola oil
1/2 cup maple syrup
1/2 cup unsweetened soy milk (plain, vanilla or vanilla lite would be good too)
3/4 cup pumpkin puree (about half of a 15 ounce can)
2-3 teaspoons vanilla extract
optional: ½ teaspoon almond extract
Frosting:
(measurements are approximate)
3 tablespoons vegan cream cheese, at room temperature
3 tablespoons vegan butter (I like Earth Balance), at room temperature
1 1/2 tablespoons pumpkin puree
powdered sugar (start with 1 cup and add more until desired consistency is reached)
unsweetened, plain, vanilla or vanilla lite soy milk (start with 1 tablespoon and add more until desired creaminess is achieved)
Garnish: 6 plain or candied walnut halves (chop them for the loaf)
Preheat oven to 350 degrees. Oil a 6-mold mini-bundt pan or a 5 x 8" metal loaf pan with non-stick spray.
To make batter, place all dry ingredients into a large mixing bowl. Make a well in the center and pour in oil, soy milk, pumpkin and extract(s). Stir together just until wet and dry ingredients are combined. Spoon batter into molds or pan and gently smooth top.
Bake the mini-cakes for 30 minutes (but check at 20 and 25) and the loaf for 1 hour (but check at 50 and 55 minutes) or until toothpick inserted in center comes out clean or nearly clean. There should be no raw batter clinging to the pick. Cool for 10 minutes in the pan on a wire rack. Run a knife around edges if necessary and remove from pan onto rack. For loaf, turn into your hand and then invert onto rack so that the rounded side is up. Cool completely before slicing and frosting.
Make frosting by creaming together all ingredients with an electric mixer until desired consistency is reached. Cover until ready to use.
For mini-pumpkins, use a serrated knife to trim off a very thin slice of the "crown" so that they will sit flat with their decorative side up. Place a generous spoonful of frosting in the indention or depression of each and top with a walnut half. For loaf, spread frosting over top and sprinkle with walnuts. Store either covered or in an airtight container.