Yield: one 10-inch poundcake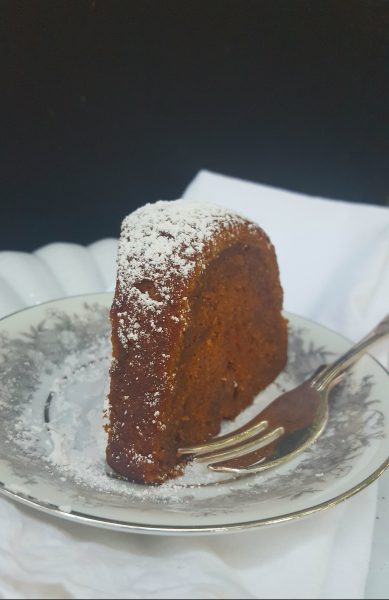 A pumpkin spice lover, not hater–in spite of all the hype–I take my savory and seeet pumpkin seriously. So three attempts and 12 cups of flour later, I finally got it: the perfect Pumpkin Pound Cake in both flavor and luscious moistness and tenderness.
The first two cakes were a little dry and we'll say "sturdy."  The secret to my ultimate success is three-fold: two kinds of fat, both vegan butter for flavor and vegetable oil for moistness; molasses also for deep, flavorful moisture; and the combination of curdled soymilk and vegan sour cream for ever-so-slightly-tangy tenderness (though using all curdled soymilk will work nicely too).
Get your pumpkin spice on!
1/2 cup canola or other vegetable oil
1/2 cup vegan butter, softened
2 1/2 cups demerera sugar or brown sugar
2 tablespoons molasses
1/4 cup flax meal
1 tablespoon pure vanilla extract
1 teaspoon pure almond extract
2 teaspoons ground cinnamon
2 tablespoons pumpkin pie spice
4 teaspoons  baking powder
1 teaspoon baking soda
1/2 teaspoon salt
1 cup nondairy milk mixed with
1 tablespoon vinegar, set aside to curdle for a couple of minutes
4 cups white whole wheat flour
1 1/2 cups pumpkin puree
1/2 cup vegan sour cream (or another 1/2 cup nondairy milk, but I prefer sour cream)
In the bowl of a stand mixer, or with a hand mixer, beat the oil, butter, sugar, and molasses for one minute. Then add 1/2 cup of the milk, extracts, flax meal, extracts, spices, baking powder and soda, and salt, and continue to beat for another two minutes until the mixture is quite fluffy.
Add the flour and remaining nondairy milk to the sugar mixture in three batches, alternating and beating for 20 seconds after each addition. Scrape down the sides and the bottom of the bowl with a spatula frequently.
Finally, add the pumpkin puree and sour cream (or 1/2 cup nondairy milk) and mix for 20 seconds.
Scrape the batter into an oiled and floured bundt pan.
Bake in a preheated oven set at 350 degrees Fahrenheit for 1 hour and 5 minutes or until a toothpick inserted in the center of the bundt cake comes out clean or with a few crumbs sticking to it.
Set on a rack to cool for 30 minutes, then unmold and continue cooling the cake on a rack covered with a dish towel.