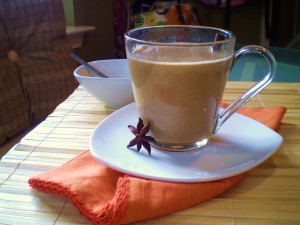 First, don't miss my cookbook giveaway by going here.  Deadline is next weekend.
And, second, it is Day 3 of Vegan MoFo and, Starbucks, you know I love 'ya, but you can't touch this!…
In recognition of this season of vegan eating and drinking, it is my pleasure to offer you my brand new breakfast beverage that is quick enough for a hurried weekday morning.  But it's also perfect for a weekend morning when the first nip of fall is in the air.
As a pre-vegan child, I was never much of a breakfast eater, especially on weekdays.  Getting out the door to school–which I actually loved–was enough of a challenge.  So, my nourishment of choice was Carnation Instant Breakfast.  Always Chocolate.  Remember those?  It was (and I guess still is?) a vitamin and mineral-fortified powdered mixture that is whisked into milk.
Turns out that the most important meal of the day (though there is now some debate about that) is still not my favorite on weekdays.  On the way to school, now as an art teacher, I whip into Starbucks and grab a venti Green Tea Soy Frappuccino to go–hold the classic syrup and, of course, the whip–in one of their insulated travel cups.   (An aside: my neighbor, Joe Pitt,  who "tricks out" high-end custom motorcycles is making a bracket so that he can attach a cup holder to my Vespa!)
On weekends, though, I love to make, especially, pancakes a zillion ways, but also French toast and other fruit pastry type dishes (you'll find many on this blog and more in my cookbook.)
However, after one of my favorite SB baristas told me about an apple cider and soy concoction, I decided to try to make one at home.  It was a miserable failure.  The soymilk curdled the apple.  I'll have to find out her secret.
In the meantime, still craving a warm and comforting beverage of some sort–and with some pumpkin puree on hand–I created Pumpkin Pie Espresso which I hope might become a staple in your home. It's quick, delicious, nutritious, fragrant, and super-satisfying.  The real pumpkin puree lends just the right of body so that it is still very sip-able, but with a lusciousness about it.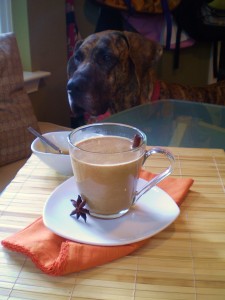 Yield: 1 1/2 cups (that's a single serving for me!)
1/4 cup pumpkin puree
Sweetener of your choice: agave or maple syrup, natural sugar, Stevia, Splenda (eek!), etc.
Pumpkin pie spice, to taste (or a combination of small pinches of cinnamon, nutmeg, cloves–go lighter still on the cloves–etc.)
1 1/4 cups unsweetened, plain or vanilla soymilk
1 rounded teaspoon of instant espresso (about 1 1/8-1 1/4 teaspoons)
1 cinnamon stick
Saucer garnish: a star anise pod
Optional: Rosemary-Caramel Sauce to drizzle (I love the rosemary, but if that sounds odd to you, just follow the recipe but omit the rosemary)
In a microwave safe 2-cup measure or a 1-quart saucepan, whisk together pumpkin puree, sweetener and pumpkin pie spice to taste.  When you have it just right, whisk in the soymilk and espresso powder.  Drop in the cinnamon stick and either microwave for about 2 minutes on high–watch closely so it doesn't spill over–or simmer for approximately the same amount of time over medium to medium-high heat.  Remove the cinnamon stick to a mug and then pour in the pumpkin-espresso mixture.  Serve with a star anise on the saucer.  [I love the way these look–so organic and autumnal, but they aren't to be eaten, so when I'm finished, I just pop it back into the jar (with clean hands) and use it again.]
To make this beverage ultra-decadent, serve it with a caramel drizzle.  Mine isn't formulated to float on top like Starbucks is, but mine also isn't dairy!  And since it sinks, it adds flavor, but it's also about the overall presentation.  A little bowl of caramel sauce and a pretty silver spoon just looks so inviting sitting on the table.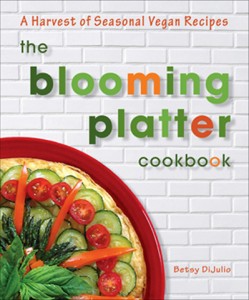 For more than 150 additional mouthwatering recipes to celebrate all year long, I invite you to check out The Blooming Platter Cookbook: A Harvest of Seasonal Vegan Recipes.