Yield: 1 dozen muffins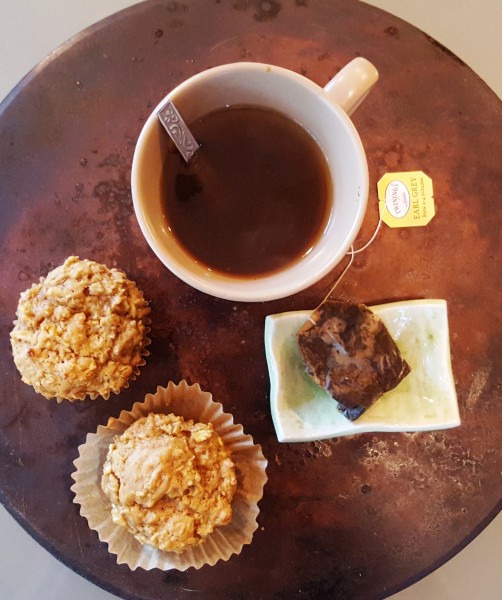 My apologies for yet another hiatus…this one precipitated by the death of my adored mother, Sallie Gough–who inspired my love of cooking, art, and much more–on October 2.  But I'm back and, hopefully, facing at least a year of no major losses. Yet and still, I live in a perpetual state of grace and gratefulness for the last two months of so many gestures of love and compassion that I couldn't pay them back in two lifetimes.
In fact, I created these muffins for my nextdoor neighbor, Sonny–who has been helping me out, especially with the new dogs, since Joe passed away–and his darling daughter the young soccer star.  He came over this morning with his coffee and visited with me while I sipped tea and unloaded the dish washer, leaving with the muffins to waft under the nose of his adolescent daughter who loves to sleep in, especially on chilly fall mornings.  They were a hit.
The love child of my vegan  Sweet Potato and Pumpkin Butter Muffins and my Peanut Butter and Apple Muffins, this recipe makes the most of two of my favorite autumnal ingredients that I happened to have on hand: pumpkin puree and fresh local apples.  Enjoy with a cup of hot tea or glass of cold soymilk.
1/2 cup canned pureed pumpkin
1/2 cup canola oil
1/2 cup unsweetened soymilk (you can use plain, but you might want to slightly decrease the sugar)
1/2 teaspoon vanilla extract
1 cup demeraral sugar
2 cups white whole wheat flour
2 teaspoons baking powder
1 teaspoon baking soda
1/2 teaspoon sea salt
Pinch ground allspice
Pinch ground cinnamon
Pinch ground cloves
2 medium apples, skin on, finely grated finely grated or chopped (fine like food processor-fine)
Line muffin cups with papers or oil well with nonstick spray.  In a large mixing bowl, whisk together pumpkin , canola oil, soy milk and vanilla until well combined.  Whisk in sugar, flour, baking powder, baking soda, and sea salt just until a smooth, thick batter forms.  Then stir in grated apples only until incorporated.  The moisture from the apples will loosen the batter a bit.  Divide evenly among prepared muffin cups and bake for 20 to 23 minute or until a toothpick inserted in the center of one comes out clean.  Allow to cool about 10 minutes in the pan and then remove to cool completely or to enjoy while warm.