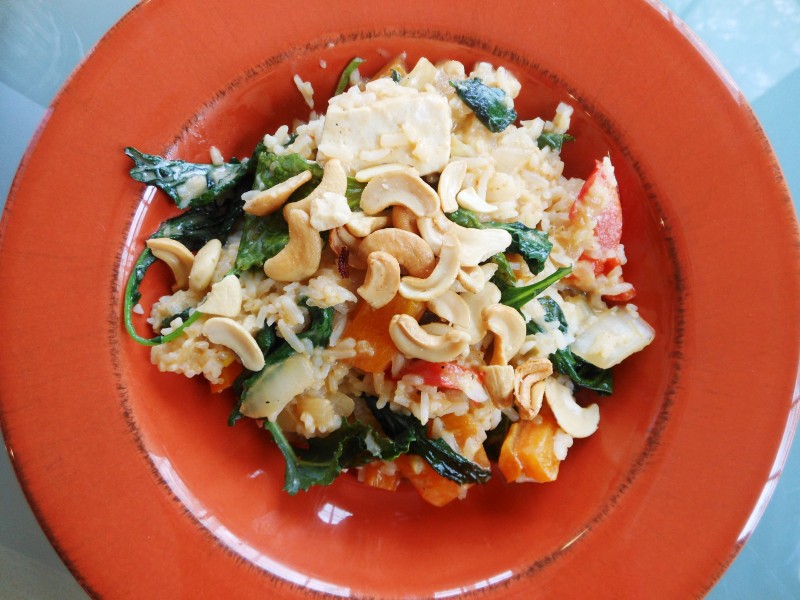 Yield: 2 servings
I LOVE Thai food but, let's face it, those creamy coconut milk dishes–even vegan–are pretty indulgent in the calorie department.  So, recently, when we went out for Thai, I allowed myself part of my dinner of pumpkin and tofu in coconut red curry sauce–which was mostly velvety rich sauce–and brought the rest home.
Rather than just eat the leftovers "as is," I decided I could make them more healthful and colorful while stretching them into two more meals with the addition of just a very few fresh ingredients.
So, that's what I did, and it was outstanding!  Following is my easy recipe.  Because restaurant dishes will vary, just trust your instincts and taste buds when you set about doctoring up your leftovers.
1 tablespoon vegetable oil
Half of a medium yellow onion, slivered (or 1 small yellow onion)
Sea salt to taste
1 red bell pepper, stemmed and seeded, diced
Approximately 1 cup leftover vegan pumpkin and tofu in coconut red curry sauce with optional white rice (or something similar)
2 handfuls baby kale
2 to 4 tablespoons vegan fish sauce (sold at Asian markets as "vegetarian")
Optional: approximately 1/4 cup fresh Thai basil, whole leaves or coarsely chopped + more for garnish if desired (sold in Asian markets)
Freshly ground black pepper to taste
1/4 cup lightly roasted and salted cashews
In a large cast iron skillet–or wok–over medium-high, heat oil.  Add onion and a pinch of salt and sauté for about 3 minutes, stirring frequently, until softened and beginning to turn translucent.  Add bell pepper and continue sautéing and stirring for another 2 to 3 minutes or until bell pepper is softened.  Add leftover pumpkin and tofu in coconut red curry sauce or similar dish, including any rice, up to about 1/2 of the amount of curry, and heat through, stirring.  (Any more rice, and the finished product will be too thick and dry.)  Sprinkle kale over the top and gently fold in just until it wilts slightly.   Add remaining ingredients, except cashews, including more salt to taste.  Heat through, and serve immediately topped with cashews and optional garnish of additional Thai basil.  If mixture becomes too thick, think with a little coconut milk, vegetable stock, or even water.