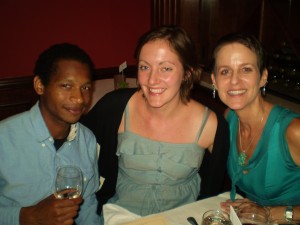 What a whirlwind the last couple of weeks have been!
I've not even shared one of the most exciting events to happen since the publication of The Blooming Platter Cookbook because I hardly knew where to start.  But on  Thursday, July 14, my dear friend Yvette Hetrick and my husband, Joe, co-hosted a  wine reception, "Dutch treat" dinner, and book-signing for 30 of Yvette's closest friends and family members in the private dining room at Millennium Restaurant in San Francisco.
The Millennium is especially significant to me because it was the first vegan restaurant in which I ever dined many years ago, before I was even a vegan, and whose Millennium Cookbook, which I promptly bought, has been very influential to me on many levels.
So, when VegNews Magazine staffer, Lyndsay Orwig, a guest at the dinner, generously posted her account entitled "Celebrating the Seasons" on the magazine's "Press Pass" page, I thought there was no better lead-off.
It was a beautiful, vibrant evening of generosity, graciousness, goodwill, and great food and wine.  I hope you'll start with Lyndsay's illustrated synopsis (just click on the link above) and that you'll stay tuned for a few more highlights in separate postings, including a couple more recommendations for unbelievable vegan restaurants in the San Francisco and Napa areas, wines from the central coast area, art, accommodations, and more.
A bountiful thank you to Lyndsay and to VegNews Magazine!