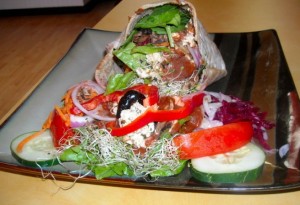 If you live in the Hampton Roads, Virginia, area or if you come for a visit, run, don't walk–actually, take your fuel efficient vehicle–to the Ocean View section of Norfolk for food that fairly bursts with nearly indescribable flavor and color.
Days later, I am still fantasizing about the meal I had at Quenna's Raw and Vegan with my good friends Becky Bump and Sharon Tanner last Tuesday night.  Plus, the restaurant, with its persimmon colored walls and furniture with a nod to the islands, feels fresh and modern.
I didn't think to take my camera, so the dish depicted–not what we ordered, but representative of the fare–is from Heidi who blogs at Fighting with Food.  Please visit her there and, Heidi, I hope you don't mind that I used your photo.  If you do, just let me know, and I'll remove.
Tuesdays feature Tofu Tuesday specials that I couldn't pass up.  I chose a creamy-firm tofu mixture, flecked with colors and texture and seemingly kissed with the brine of the sea, wrapped inside a nearly transparent "ryce" wrapper.  A trio of these delectable packages was served alongside an open-faced red bell pepper piled with "kush," bulgar wheat bound together with just enough of a flavorful reddish sauce to hold it together.  Sliced cucumber and tomato along with a handful of fresh lettuces dressed the beautiful plate.  Red Bush Tea was the perfect accompaniment on a frigid night.
Raw food on a "raw" and cold winter night in southeastern Virginia may not sound appealing.  But I found the preparations so exciting that I didn't even think about whether they were raw–or cold–just delicious.  Not being a "raw food" aficionado, the tastes were delightfully and seductively unfamiliar to me and I can't wait to go back until they are familiar and then go back some more!
Long live our area's only vegan restaurant!  (To those of you in larger cities, that may seem impossible, but it is only too true.)
Quenna's Raw & Vegan
9619 Granby Street
Norfolk, VA
23503-1625
Telephone: 757.714.2396
OPENING TIMES
Sunday
(Closed)
Monday
(Closed)
Tuesday-Saturday
( 11am – 3pm and 6pm – 9pm )