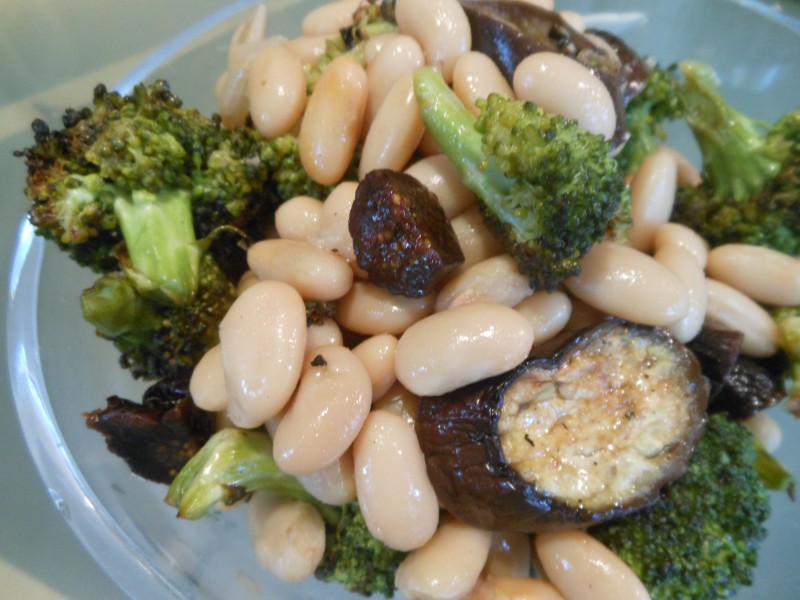 Yield: 4 servings
The flavor of this simple and pretty salad–which may be served warm, cold, or room temperature–belies its throw-together-quick origins.
I always called broccoli prepared this way "roasted," but the new term in culinary magazines is "charred" and I liked that for a fun change.  Whatever you call it, you will love it!
Note:  This salad is delectable as is, but if you like a little more salt, add about 6 oil cured black olives, pitted and chopped.  Olives and dried figs are one of the world's great marriages of flavor.
2 to 3 tablespoons olive oil, divided
About 1 1/2 cups broccoli florets
2 8-inch long very slender Japanese eggplants, sliced diagonally 1/2-inch thick
Sea salt to taste
Freshly ground black pepper to taste
1-15.5 ounce can cannelini or other white beans, rinsed and drained
4 dried Mission figs, stems removed and quartered
1 teaspoon Balsamic vinegar
1/4 teaspoon garlic powder (or if you really like the "bite" of raw garlic, 1 small clove minced)
Optional: 6 oil cured black olives, pitted and chopped
Preheat oven to 500 degrees.  Add 1 tablespoon of the olive oil to a metal roasting pan (I like to use my large cast iron skillet).  Add broccoli, eggplant, and a pinch of salt and pepper, toss, and roast for 20 minutes, stirring after 10, or until lightly charred.  Remove from oven and transfer vegetables to a medium bowl.  Add all remaining ingredients, adjust seasoning if necessary, toss gently to combine, and serve warm, cold (chill, covered) or room tempeature (my favorite).