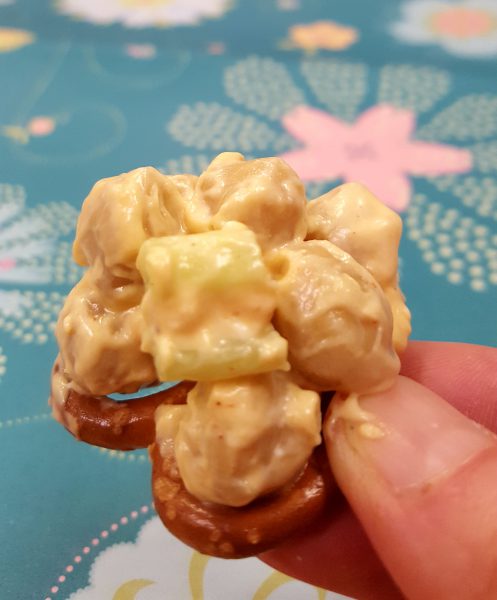 Yield: 2 servings
My go-to vegan lunch…
Perched on pretzels that I used as scoops, this super quick and easy–and let's not forget tasty–chickpea salad recipe would also make a delicious filling for a wrap, especially with the shredded purple cabbage that I used as a base. I folded the cabbage into the last of the salad and loved that flavor combination and crunch.  It is perfect for a workday lunch…with a little mouthwash chaser.
Note: you may omit the butter, but it is a small amount, is included in the traditional recipe for Buffalo Sauce, and it mellows the vinegar, also a traditional ingredient.   Each ingredient is needed to create that addicting balance of hot and tangy buffalo goodness.
2 tablespoon softened vegan cream cheese
2 tablespoons Daiya brand vegan blue cheese dressing
1 tablespoon Frank's hot sauce (or more if you like hot alot)
1 tablespoon melted vegan butter
1 teaspoon white vinegar
1 teaspoon Sriracha sauce
1/4 teaspoon garlic powder
1-15.5 ounce can chickpeas, rinsed and drained
4 celery hearts, finely diced
4 green onions, thinly sliced
Sea salt and pepper to taste
Shredded purple cabbage
In a medium bowl, whisk together first 7 ingredients. Fold in chickpeas, celery, and green onions. Season to taste with salt and pepper, and cover and chill until serving time.  Serve on a bed of the cabbage or fold the two up together in your favorite wrapper.