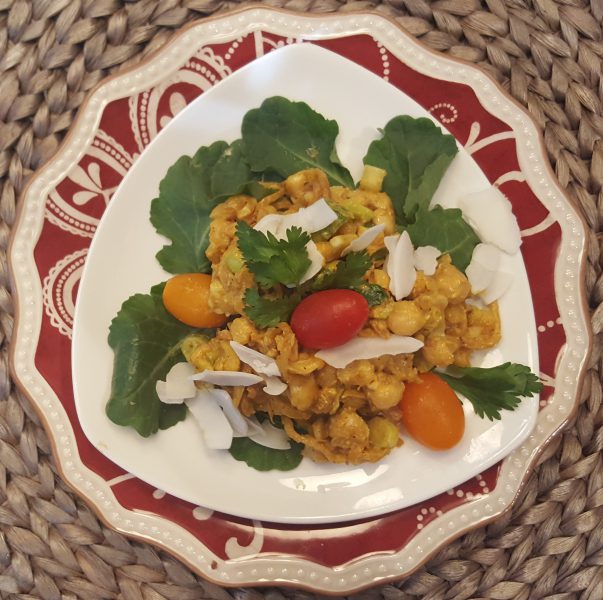 Yield:  Serves 6 to 8
This favorite Indian chickpea dish just got chilled out.  Packed with layers of irresistible flavor and nutrition, it is my new summer crush.
Craving Indian food in the 95 degree recent heat wave, I wondered if I could get all of the flavor without the cooking process by stirring a prepared dry spice mix, meant to be simmered, into vegan mayo and using it as the dressing for a chickpea salad.
The answer is a resounding yes!
I chose Jaswant's Kitchen brand from Whole Foods. It is tasty, vegan, gluten-free and, though rated only two chili peppers, it is still quite spicy.
In fact, that is how my chickpea salad came to include other ingredients and serve so many: I wanted to tame the spice.  In the end, it is perfectly balanced and all the better for the addition of spiralized veggies and raw cashews.
Note that most spice blends contain plenty of salt, so you won't want to add any. And you will want to use raw unsalted cashews.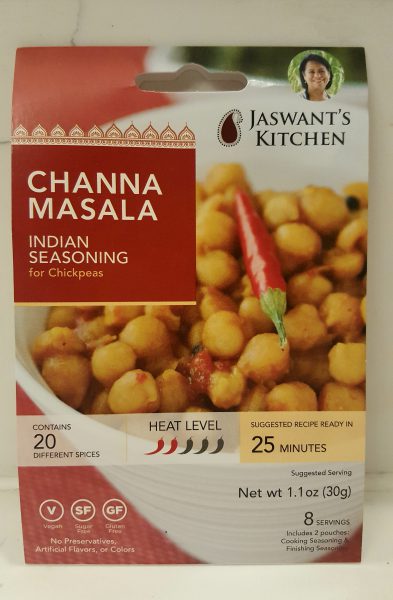 3/4 to1 cup vegan mayo
About 1 1/2 ounces Channa Masala seasoning or your favorite prepared Indian spice mix (be sure it is vegan; I use Jaswant's Kitchen brand from Whole Foods, but use another flavor or brand if you prefer)
Optional: Juice of 1/2 large lime
2 cups roasted spiralized vegetables, cooled (I use a combination of butternut squash and turnip)
1 can chickpeas, rinsed and drained
2 cups raw cashew halves and pieces
6 celery hearts, finely diced
2 large green onions, thinly sliced (both white and green parts)
1 to 2 tablespoons cilantro leaves, chopped if desired
Garnishes: cherry tomatoes, shaved coconut, and/or cilantro sprigs
In a small bowl whisk together 3/4 cup mayo and seasoning mix. Set aside.
In a large bowl, combine all other ingredients, add mayo mixture, and stir gently to combine. Incorporate remaining 1/4 cup mao if needed. Serve garnished as desired.