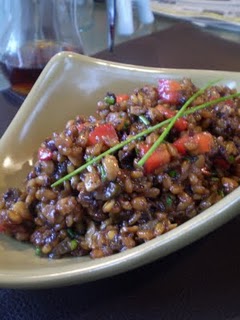 Yield: approximately 4 cups or 8 servings
I am addicted to a wheat berry salad I discovered recently on the deli bar at our local Farm Fresh grocery store. I nabbed some one day when I had neglected to take my lunch to school. For some reason, I love to scoop it up with All Bran crackers. (Have you tried them yet? Mmm…)
Each time I purchase the salad for my lunch, I try to analyze what's in it which is no small feat considering I'm usually wolfing it down. Finally, this weekend, I set about to recreate it. My recipe comes very close, except for the addition of hazelnuts which seemed like the perfect finishing touch to me. Besides tasting so good, making my own salad saves drive-time and money, though I suspect I have not had my last taste of the inspiration dish.
The only downside to wheat berries is the long hands-free cooking time, but you definitely don't want to serve them undercooked, though they will be chewy regardless. And this salad is so worth any extra effort. Therefore, the day before you plan to serve it, start the berries soaking in 2 cups of water. Twelve hours later, they will be softened and ready for cooking.
1 1/4 cups wheat berries
2 generous cups water
Soak berries in water for 12 hours, drain, and proceed with recipe.
1 tablespoon olive oil
1 small yellow onion, finely diced
2-3 cloves garlic, minced
3 stalks celery, very finely diced
1/2 of a red bell pepper, very finely diced
generous 3 cups of vegetable stock
coarse sea or kosher salt to taste
freshly ground black pepper to taste
1/2 cup dried cranberries
2 tablespoons olive oil
2 tablespoons apple cider, fig or red wine vinegar (I used fig because I had some on hand)
zest of 1/4-1/2 of a large orange (you just want a barely perceptible hint of orange)
1/2 cup chopped hazelnuts (dry toast in a skillet over medium-high heat for a very few minutes, just until lightly toasted)
approximately 1 tablespoon or so of snipped fresh chives
In a large skillet over medium-high, heat oil to shimmering. Add onions and saute, stirring frequently until they just start to turn golden. Add celery and red pepper and continue sauteing and stirring frequently until it softens. (Note: you may alternatively add uncooked red pepper at the end; the crunch and brighter red color is a nice contract with the other ingredients.) Stir in soaked and drained wheat berries. Add stock, stir well and cover with a lid or foil and simmer, lowering heat to medium if necessary, until tender and liquid is absorbed, probably about an hour, but start checking at 45 minutes. Add warm stock or water if liquid evaporates before berries are tender. Remove from heat and transfer to a heat-proof bowl. Stir in dried cranberries and season to taste with salt and pepper. Mix together olive oil, vinegar and zest, pour over berry mixture and toss gently to coat. When mixture cools to room temperature, stir in hazelnuts, chives, and red bell pepper if you chose not to add it with celery. Adjust seasoning if necessary. This salad is best served at room temperature. Store in an airtight container in refrigerator.