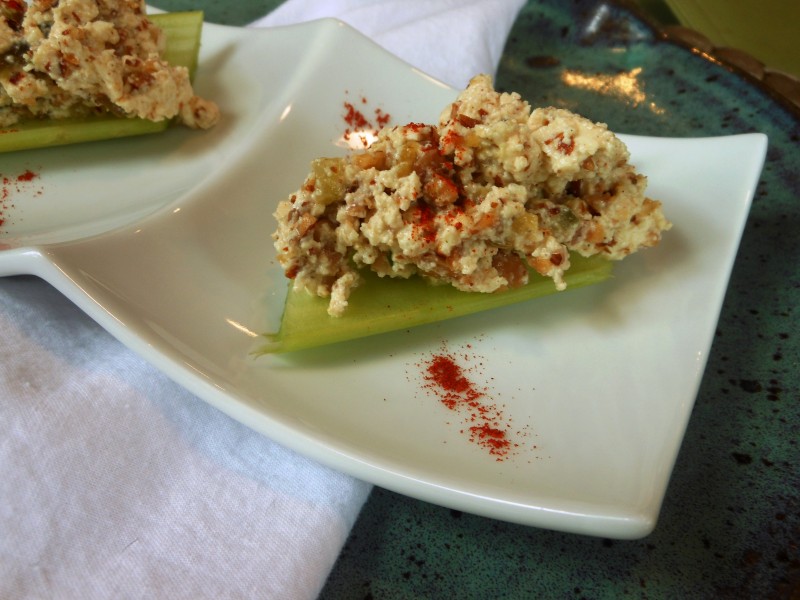 Yield: approximately 3 to 4 cups
This super-easy salad was a pre-vegan childhood favorite.  I remember consuming way too much of it when I was home sick from school one day.  The mere thought of it brings back feelings of nurturing and nostalgia…even more so now that I've replaced the ham with extra-firm tofu and finely chopped smoked almonds.  To recreate the total flavor profile that I longed for, I added a few additional spices like fennel, sage, thyme, etc., and then stirred in the requisite vegan mayo, pickle relish and lots of freshly ground black pepper.
This recipe goes together in a flash, so when the craving strikes, satisfaction is only minutes away!  Enjoy for breakfast on a toasted bagel half, in a sandwich or wrap for a brown bag or even company-ready lunch, or spread on crackers or raw veggie slices as an accompaniment to a bowl of soup for a light–and lightening fast–supper.
14 ounces extra-firm tofu (not Silken), lightly pressed and blotted with paper towels
1 cup smoked almonds, finely chopped (I use a food processor)
1/4 teaspoon fennel seeds (lightly crush with a mortar and pestle if desired, but not necessary)
1/4 teaspoon dried rubbed sage
1/4 teaspoon nutritional yeast (optional, but I think it is nice)
1/8 teaspoon dried thyme
1/8 teaspoon garlic powder
1/8 teaspoon onion powder
5 tablespoons vegan mayonnaise
1/2 of a large vegetable bouillon cube
2 tablespoons sweet pickle relish
2 teaspoons Braggs Liquid Aminos
Freshly ground black pepper to taste (I am quite generous with it in this recipe)
Crumble tofu into a medium bowl.  Add almonds, fennel, sage, nutritional yeast, thyme, garlic powder, and onion powder, and toss with fingers to combine well.  Mash bouillon cube with fingers and whisk into mayo.  Add mayo to tofu-almond mixture along with remaining ingredients.  Stir together gently until completely combined.  Taste and adjust seasoning if necessary.  Serve immediately or refrigerate until serving time.  Delicious stuffed in celery sticks, mounded onto cucumber slices, or crackers, piled onto a sandwich, rolled in wrap, or heaped on a toasted bagel.