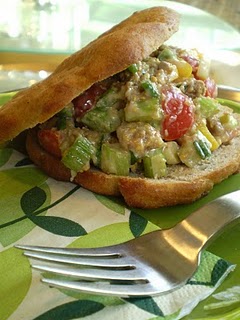 Yield: 4-6 servings
No animal was harmed in the making of this sandwich, yet here it is in salad form: all of the things meat-eaters love about a juicy steak sandwich with onions and peppers and a dollop of horseradish-mayo piled high on a toasted sesame seed roll.
This salad is mouth-watering served in individual lettuce-lined bowls or martini glasses, but it is also a very tasty sandwich or unique pizza topping. In the photographed version, I combined the two by shaping my favorite pizza dough (made with half all-purpose and half whole wheat four) into four individual oblong pieces that were a little thicker than normal, baking them, and then splitting them lengthwise. A little extra horseradish-mayo moistens the bread or pizza crust nicely.
I made the photographed version of this salad with Morning Star brand barbecue riblets, though without most of the sauce that comes in the package. My intention was to use Morning Star Meal-Starters beef strips, but my grocery store was out of them. So, I decided to just go with the background hint of barbecue-style sweetness and play it up with a bit of celery since it is so good with vegan "wingz." When I make the salad with beef strips (or home-made beef-flavored seitan), I may omit the celery; but we'll see. It's not a typical steak sandwich ingredient, but I love its juicy-crisp goodness.
8 ounces of vegan beef, such as beef-flavored seitan (homemade or purchased), Morning Star Meal Starters beef strips or Morning Star riblets without the sauce, cut into bite-size chunks or strips (if you use a frozen product, defrost before continuing with the recipe)
4 stalks celery, sliced lengthwise and medium-finely diced
6 green onions, the white part and only half of the green part, sliced thin
1/2 of a yellow pepper, stemmed, seeded, and medium-finely diced
16 grape tomatoes, quartered
1/4 cup vegan mayonnaise
2 tablespoons horseradish
1 teaspoon of lemon juice
1/4 teaspoon Amino Acids
1/4 teaspoon soy sauce
pinch garlic salt
coarse kosher or sea salt to taste
freshly ground black pepper
4 tablespoons sesame seeds, dry toasted in a small skillet over medium-high just until fragrant and golden
Gently mix together first five ingredients in a medium bowl. In a separate small bowl or cup, whisk together mayonnaise and next five ingredients. Pour dressing over salad ingredients and toss together lightly. Check for seasoning and add salt and pepper if desired. Sprinkle toasted sesame seeds over the top and either leave as a garnish or gently mix in. Serve in individual lettuce-lined bowls or martini glasses for a festive presentation, in a sandwich (preferably on warm, toasted bread) or piled on a warm homemade pizza crust.