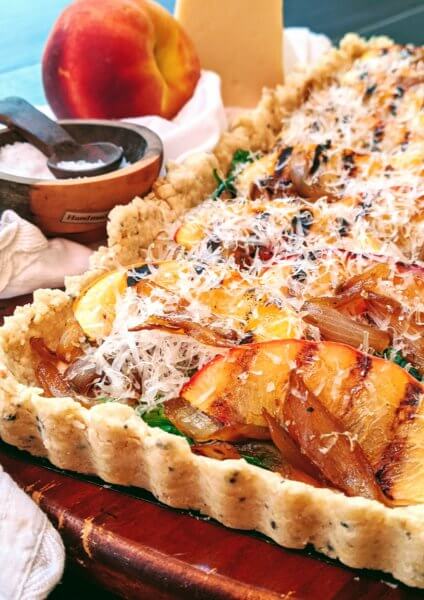 Yield: 8 servings
Endlessly adaptable, this beautiful tart is "stupid easy." The crust simply presses into the tart pan and is tender but sturdy. The bottom is spread with a layer of creaminess–vegan cream cheese, cashew cream, or even hummus–and then layered with the sauteed, caramelized or grilled vegetables–or fruit–of your choice. Or why not berries? A flurry of grated vegan cheese is the finishing touch. The recipe below includes the ingredients I used for the version in the photo, but let the seasons and your taste preferences be your guide.
Press-In Crust (recipe follows)
1/2 cup vegan cream cheese, thick cashew cream, or hummus
2 cups tightly packed spinach, sauteed lightly with 1/2 teaspoon grated ginger and sea salt
1 medium onion, thinly sliced and caramelized (to caramelize, I sauté the onion in 1/2 cup water, 1/2 teaspoon salt, 1 teaspoon vegan Worcestershire sauce or Liquid Aminos, 1 teaspoon molasses, 1 teaspoon tamarind molasses or a second teaspoon of regular molasses, 1 teaspoon apple cider vinegar, and 1 large clove garlic, minced)
1 medium grilled peach, halved, cut into 16 wedges, and grilled (I use an indoor grill pan)
Approximately 1/4 cup shredded vegan parmesan
Optional garnish: fresh sprigs of basil
Prepare crust according to directions below and remove from oven. Dollop with tablespoons of cream cheese, return to oven for about 3 minutes, remove, and spread cream cheese with an offset spatula or back of a spoon to cover bottom. (If using cashew cream or hummus, only return to oven if you want it heated.) Layer, in order, with spinach, onion, peaches, and parmesan cheese. Garnish, if desired, with fresh basil.
Press-In Crust:
2 cups all-purpose flour
1 1/2 teaspoons sea salt
1 teaspoon granulated sugar or stevia
1/2 teaspoon black pepper
1/2 teaspoon garlic powder
1/2 teaspoon onion powder
Optional: 1 teaspoon Everything Bagel seasoning
8 tablespoons vegetable oil
Approximately 4 tablespoons non-dairy milk
Preheat oven to 350°. In a medium bowl, stir all ingredients together with a fork, adding more milk if necessary to create a soft, but not sticky, dough. Crumble evenly over an 8-in tart pan and press evenly onto bottom and sides, using the floured bottom of a glass to help press if desired. Place tart pan on a baking sheet and bake for 12 minutes or until lightly golden brown.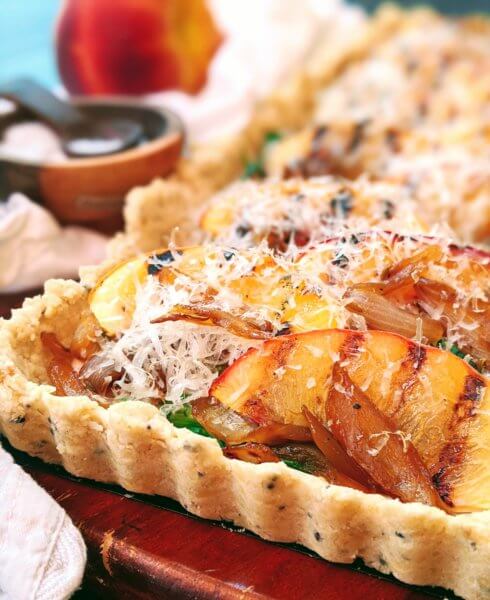 #vegan #veganrecipes #veganfoodshare #veganfoodporn #plantbased #plantbasedrecipes #plantbasedfoodshare #plantbasedfoodporn #vegansavorytart #plantbasedsavorytart