Yield: app. 6 servings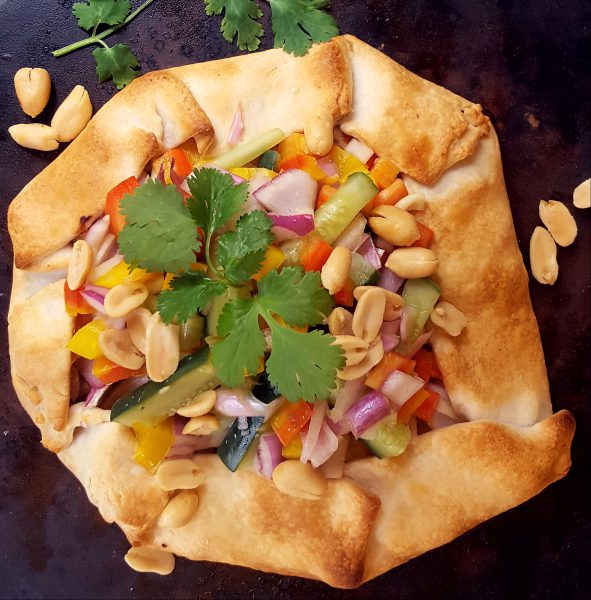 1 vegan pie crust, prepared or homemade (I use Achatz brand, available at Whole Foods)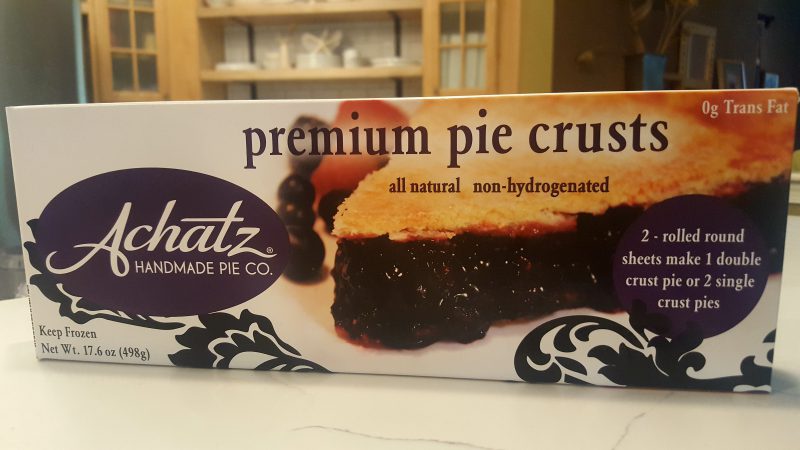 1/4 cup naturally vegan Thai peanut sauce, prepared or homemade (I use a prepared brand from the grocery store)
1 package Tofurky Slow Roasted Sesame Garlic Chick'n, cut or torn into bite-size pieces
3/4 of a large red bell pepper, but into 12 thin slices (reserve remainder)
1/2 of medium red onion, cut into thin slices (reserve remainder)
Garnish: roasted and lightly salted peanuts or cashews and cilantro or Thai basil sprigs
Cucumber Salad (recipe follows)
Preheat oven to 450 degrees.  Line a baking sheet with parchment paper or Silpat or use a terracotta baking stone.  Lie pie crust on prepared baking pan or baking stone, Spread 3 tablespoons peanut sauce in center to within 1-inch of edges.  Sprinkle evenly with Chick'n pieces and then arrange bell pepper strips in a pinwheel over the top and sprinkle evenly with red onion slivers.  Drizzle remaining 1 tablespoon of peanut sauce over the top and then fold in edges of crust, crimping and pinching as you go.  Bake for 20 to 25 minutes or until golden brown.  Remove from oven and serve garnished with peanuts and cilantro sprigs.  Serve cucumber salad on the side or piled on top, which is my preferred method.
Cucumber Salad
1 8-inch cucumber, sliced lengthwise and then crosswise into 1/4-inch pieces (I leave the seeds in for nutrition, but remove with a spoon if desired)
Reserved red bell pepper, diced
Reserved red onion, cut into thin slices and then 1-inch pieces
3 tablespoons rice vinegar
1 tablespoon natural sugar (I use demerera)
Sea salt and freshly ground black pepper to taste
In a medium bowl, combine all salad ingredients.  Check for seasoning, adjust as necessary, and refrigerate in an airtight container, stirring occasionally, until serving time.