How can healthy and quick taste and feel so decadent and delicious?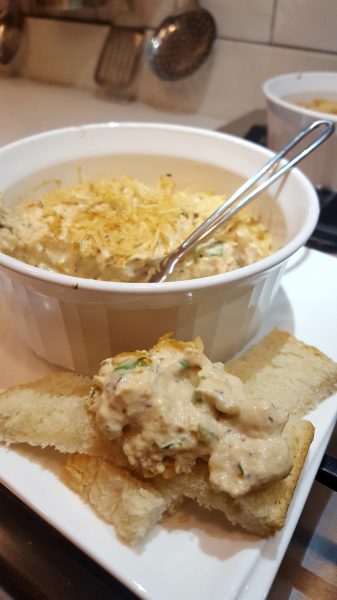 12 ounces silken tofu
4 ounces vegan cream cheese
Optional (but recommended): 2 teaspoons vegan fish sauce, sold as vegetarian fish sauce at Asian markets
1 teaspoon soy sauce
2 teaspoons Old Bay Seasoning
1 teaspoon garlic powder
Optional (but recommended):1 teaspoon Dulce flakes
Zest and juice of one medium lemon
Optional: 1 to 2 drops hot sauce
1 can hearts of palm, drained, and coarsely chopped
1 bunch or about six to seven green onions, thinly sliced
Optional: 1/4 cup + 2 T. shredded vegan parmesan (I like Follow Your Heart brand)
Preheat oven to 350 degrees.  Spray a medium ceramic or glass baking dish with nonstick cooking spray.  Process first 9 ingredients until smooth and creamy. Transfer to a medium bowl and fold in hearts of palm, green onions, and optional parmesan.  Transfer to baking dish, sprinkle with remaining 2 tablespoons parmesan, if desired, and bake for 20 minutes. Serve with toast, crostini, crackers, or raw vegetables.