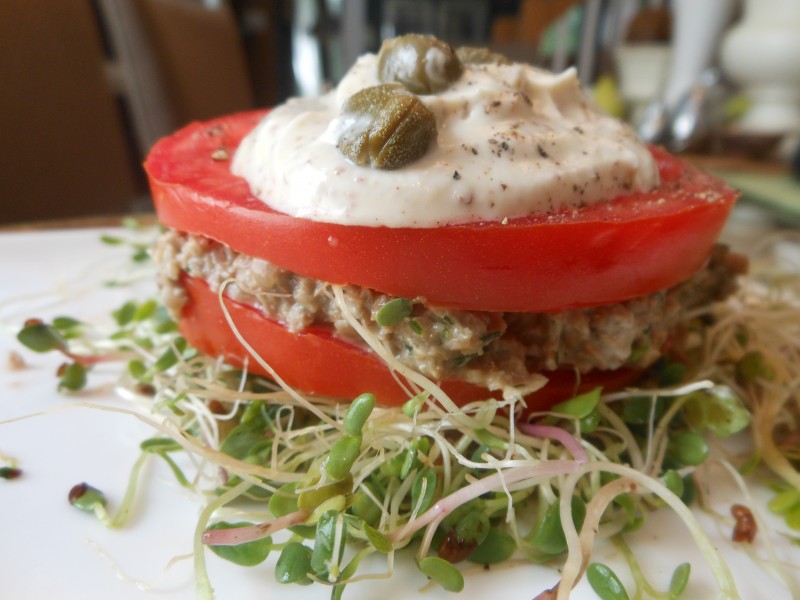 Yield: 4 servings (very light)
I love my Vegan Tuna Salad with Sunflower Seeds, Apples, Capers, and Fresh Dill on sandwiches, crackers, toasted bagels, and more.
But since I am the only one in this house who eats it–though, Minnie would love it–I had enjoyed quite a bit of it that way and wanted something different for dinner one evening last week.  Something that was light, cold, fresh, and maybe a touch hydrating as it's already pretty hot and humid here in Coastal Virginia.
That's when I remembered that, growing up, a popular "ladies' lunch" was a scoop of tuna salad tucked inside a tomato, often with the top trimmed into a kind of zig-zag.  And recently, I had seen on that most unlikely of vegan inspirations, "Diners, Drive-ins, and Dives," a sauce that I was Jonesin' for: mayo, mustard and Worcestershire.
So, not wanting to fool with hollowing out a tomato, nor wanting to waste any of this big beauty from the farmer's market, I cut two thick slices, sandwiched my "tuna" inside, placed the stack on a bed of sprouts, and whipped together my vegan version of the Triple D sauce.  Voila: dinner!
This may well become a go-to summer meal at my house and, hopefully, at yours.
1/4 cup vegan mayonnaise
2 teaspoons Dijon mustard
1/2 teaspoon Liquid Aminos or vegan Worcestershire Sauce (soy sauce would be fine in a pinch)
1 cup sprouts
8 large, 1/2-inch thick slices of fresh tomato
1 cup Vegan Tuna Salad with Sunflower Seeds, Apples, Capers, and Fresh Dill
12 large capers
Freshly ground black pepper
In a small bowl or cup, whisk together mayonnaise, mustard and Liquid Aminos until well-combined.  Taste and adjust proportions if desired and set aside.  Arrange one-fourth of sprouts on 4 plates and top each with a tomato slice.  Divide vegan tuna salad among the 4 tomato slices and spread gently to edges.  Top each with a remaining tomato slice, dollop with one-fourth of the sauce, garnish with 3 capers each and finish with a sprinkling of freshly ground black pepper.  Serve immediately.