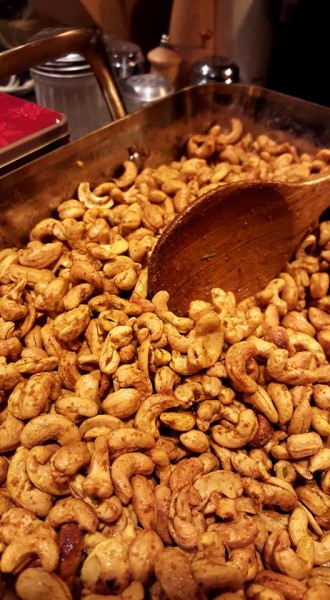 Yield: approximately 2 pounds of nuts
These addicting nuts are perfect for New Year's Day football watching or any time a protein-packed and exquisite snack is in order.
For years Ina Garten's recipe for Rosemary Cashews was my go-to for snacking and gift-giving.  But I found myself craving something with a little more complex flavor and a little less sweet.  So I began experimenting and this was my favorite delicious result. You may substitute pecan halves if you like, but they will likely require less cooking time.
This recipe easily doubles or triples.  I triple it and use a large roasting pan.
For gift-giving, I like to package the nuts inside a resealable plastic sandwich bag inside a tin to prevent the tin's interior from becoming messy.
28 to 32 ounces roasted and lightly salted or salted cashews (the cans I purchase at Bed, Bath, and Beyond come as 28 ounces)
1/3 cup vegan butter, melted
1/2 teaspoon adobo (from a can of chiles in adobo)
Zest of 1 lime
1 teaspoon minced fresh rosemary
1 teaspoon cumin
1 teaspoon smoked paprika
1/2 teaspoon nutritional yeast (optional but delish)
1/2 teaspoon natural sugar
1/2 teaspoon garlic powder
1/2 teaspoon sea salt
Preheat oven to 350 degrees. Stir together all ingredients in a 9 x 13″ baking pan, and taste and adjust seasoning if desired.  Roast for 20 to 30 minutes, stirring frequently until fragrant and lightly golden brown.  Remove to a wire rack to cool completely.  Store in airtight containers.