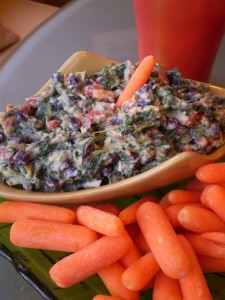 A big and fat-free thank you to Susan Voisin, the queen of delicious fat-free vegan food, for including The Blooming Platter and one of my recipes in her tasty fat-free Superbowl starting line-up at the Fat-Free Vegan Kitchen.
Just follow this link for her list of great ideas and links for guilt-free snacking, including my Vegan Fat-Free Spinach-Three Bean Dip.
I can think of no better endorsement for this scrumptious dip than that my National Art Honor Society teenagers ask for it by name and devour it at our meetings!