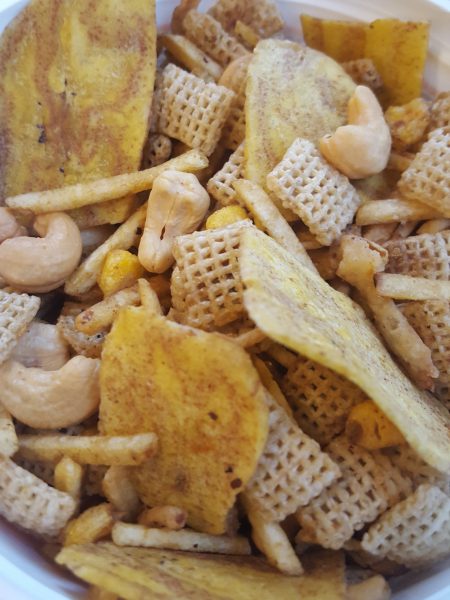 Recently, I heard an interview on NPR with Anya von Bremzen, the author of Paladares: Recipes Inspired by the Private Restaurants of Cuba, and I was completely captivated by the tales of resourcefulness, resilience, and innovation, not to mention the kinship the Russian author feels with her Cuban socialist brethren, especially in terms of hunger and deprivation.  I highly recommend.  The photos are stunning, the stories engaging, and the recipes, while not necessarily vegan, are easily veganized.
This isn't one of them, but it is inspired by the flavors of Cuba, some of which we have learned to appreciate thanks to Juan and Barbara Gelpi.  I gifted them with this batch–though I kept a little stash (which instantly disappeared)–and Juan pronounced that it tasted "pretty Cuban," which is quite a compliment coming from him, an accomplished vegan cook with Cuban roots.
After perusing the cookbook, I new I wanted to include the flavors of orange and cumin which featured prominently in one of the recipes.  But I also knew that I wanted to nod to their very simple staples of rice, black beans, corn, potatoes, onion, and plantains.  Granted, I ended up using an Asian black bean product, but I like some soy in my Chex Mixes and have never felt that that alone made them taste Asian, that is, unless I wanted them to and punched up the Chinese, Japanese, or Thai flavors with other ingredients.
I think you will love this addicting iteration.  It doesn't have a lot of contrasting colors, but the flavor will more than make up for any lack of color.  For many others, just search "Chex Mix" here on The Blooming Platter.
1/2 cup vegan butter
Juice and zest of one large orange
2 tablespoons black bean garlic sauce (sold in the Asian section of the grocery store; make sure it is vegan)
1 tablespoon ground cumin
1 tablespoon garlic powder
1 tablespoon onion powder
8 cups Rice Chex
6.5 oz toasted corn snacks
4.5 ounces plantain strips
4 ounces Potato Sticks
2.8 ounces crispy fried onions
1 cup roasted and salted cashews
Preheat oven to 250 degrees.  While oven heats place vegan butter in a large roasting pan and place inside oven to melt butter.  Remove from oven and whisk in orange juice and zest, black bean garlic sauce, cumin, and garlic and onion powders.  Stir in remaining ingredients in order given.  Roast for 1 hour, stirring every 15 minutes. Remove from oven, cool, and package in an airtight container(s).