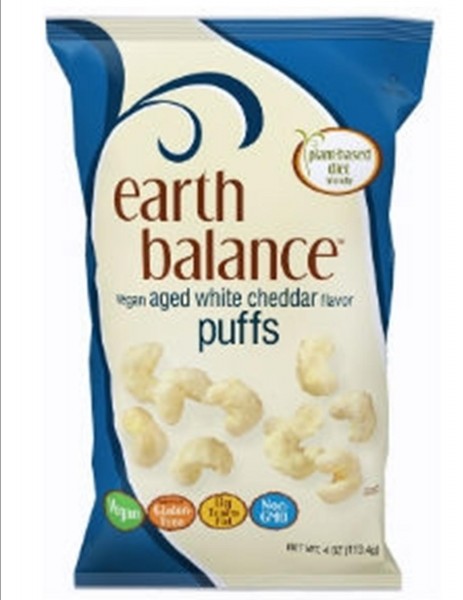 Come on, admit it: every so often you find yourself fantasizing about cheese puffs.  You do.  I know you do!
A year or so ago, I heard a tantalizing rumor: that Earth Balance made a vegan cheese puff product.  However, we are not always on the cutting edge of vegan culinary developments here in my beloved state and it wasn't until this summer that I actually saw them in a display at The Heritage, our main health food store in Virginia Beach.  (They are available at Whole Foods, and Organic Depot, as well as some health food markets.)
I had to exercise serious control to only purchase one bag.  One bag (4 servings) that I devoured on the way home!
Is vegan junk food an oxymoron?  In truth, these tasty puffs–admittedly a little homely looking–aren't total junk.  They don't have tons of nutritional value, but they are vegan, gluten-free, non-GMO, low-fat, absent of any trans-fat, and contain a little fiber and protein.
Do I eat them on a weekly basis?  No!  But will I occasionally indulge?  You betcha!