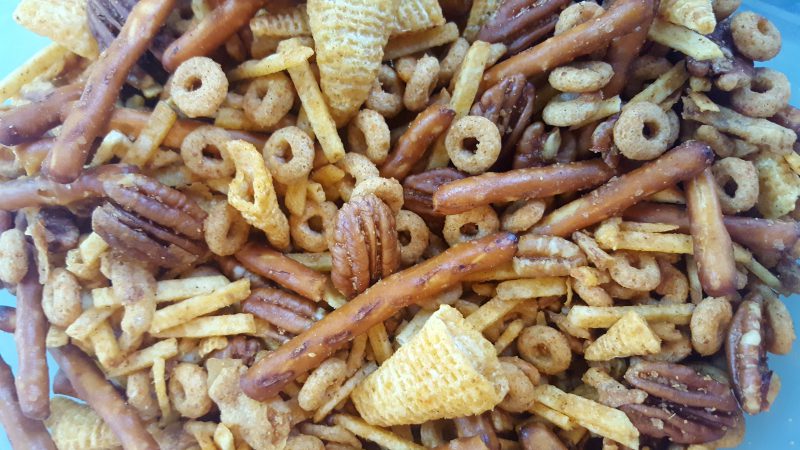 I guess I need to stop calling these creations of late Chex Mix because many of them contain no Chex. Still, they are in the spirit of Chex Mix and you could certainly substitute some Chex Cereal, say the corn variety, for Bugles if the recipe calls for that childhood favorite, as this one does.
I have experimented with this recipe three times. The first time, which was delicious, I made it with a prepared dried Buffalo mix.  I had bought two packages, so I made it again because I couldn't remember exactly the proportions I had used the first time.  That second time, I made it with slightly sweet Cheerios thinking that I could substitute those for the maple syrup. It wasn't nearly as good, so I scratch that.
The third time, yesterday, preparing a batch for Bob's and his business partner's Easter baskets, I reached in the cabinet for the last package of Buffalo mix forgetting that I had purchased two and had already made the recipe twice. Not wanting to return to the grocery store after a 13 mile hike(!), I had to make up my own spice and vinegar mixture and I loved it even more. I hope you do.
For the liquid part of the mix, I used vegan butter because butter is very much a part of Buffalo sauce for wings. I also used vegan mayonnaise to create the tangy flavor of the blue cheese sauce into which many wings are dipped.
The vinegar, Liquid Aminos (Worcherstershire in typical Buffalo sauce), and hot sauce are also part of standard Buffalo wing sauce mixtures. And since the wings are often served with celery, I added some celery salt.
While it is true that most wing sauce recipes don't call for paprika, I added some for color. And, because many wings are grilled and have a bit of a smoky flavor, I chose the smoky variety of paprika.
The maple syrup was to balance the mayonnaise and vinegar and I think it is perfect even though it is not part of a traditional Buffalo wing sauce recipe.
The same goes for all of the cereal and crunchy snacks.  They really aren't found in wing recipes of course, but the Crispy Onions and Potato Sticks reminded me of onion rings and french fries such as you might find in a restaurant that would serve wings. The pretzels seem like bar food and, likewise, the Bugles reminded me of corn nuts which I associate with bar food.
The pecan halves are included because all snack mixes need nuts, I love them, and pecans seem particularly appropriate, even though I associate them with southern food & Buffalo wings were invented in Buffalo New York.  Go figure.
The Cheerios, in my mind, just have to be part of the mix because of their neutral flavor and the way they absorb all of the other flavors, not to mention their cute little shape.
So there you have it, the rationale for this deliciousness. Enjoy.
1/2 cup vegan butter
1/4 cup vegan mayonnaise
2 tablespoons maple syrup
1 tablespoon Liquid Aminos
1 tablespoon white vinegar
1 tablespoon Frank's RedHot, Sriracha (my choice) or your favorite hot sauce
1 tablespoon celery salt
1 tablespoon garlic powder
1 tablespoon onion powder
1 tablespoon smoked paprika
2 cups Crispy Onions (sold in cartons or cans, often near the green beans because they are so often used to top green bean casserole)
3 cups Bugles
3 cups Pecan halves
3 cups Potato Sticks
3 cups Pretzel Sticks
4 cups Cheerios (unsweetened)
Preheat oven to 250 degrees. Cut butter into chunks, place in a large roasting pan, and place in oven to melt. Remove pan from oven and whisk in all remaining wet ingredients and spices. Then stir in the remaining ingredients one at a time in order. Place roasting pan in oven and roast for one hour, stirring well after every 15 minutes. Cool and store in airtight containers.