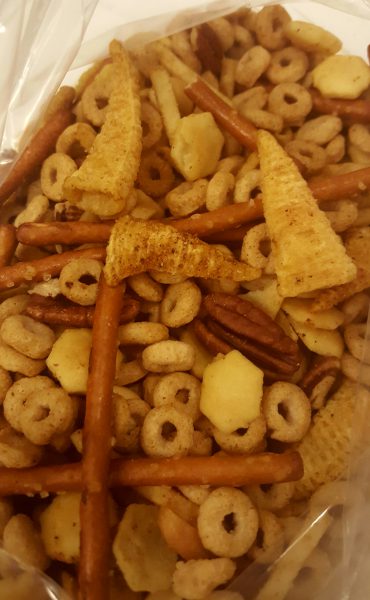 This Chex Mix contains no Chex…details, details.  Here's why.
I wanted to create an "Old Bay" flavored snack mix with hints of a crab boil–ick, sorry–like corn and potatoes. So here is my thinking on ingredients: upon learning yesterday that original Bugles are vegan–yes!–I decided to use them in place of Corn Chex. Potato sticks and oyster crackers were no brainers.  As for the Cheerios and pretzels, well, I love them in traditional Chex Mix for their shapes, textures, and flavors. Peanuts and pecans were my choices of nuts becsuse they are just so darn southern.
My stroke of genius–if I do say so–was the vegan mayo and pickle juice whisked into the butter mixture.  I LOVE (vegan) tartar sauce and these ingredients lend just the right flavor notes.
I gave away all of this mix as gifts…but writing this post is making my mouth water and I wish I had just a tiny bit to satisfy my craving.
1/2 cup vegan butter
1/4 cup vegan mayonnaise
Juice of 1/2 large lemon
2 tablespoons sweet or dill pickle juice
1 teaspoon Liquid Aminos or vegan Worchestershire Sauce
2 tablespoons Chesapeake Bay Seasoning (or Old Bay Seasoning)
1 tablespoon garlic powder
1 tablespoon onion powder
6 cups Cheerios
2 cups original Bugles
2 cups potato sticks
2 cups pretzel sticks
2 cups oyster crackers
1 cup lightly salted and roasted peanuts
1 cup lightly salted and roasted pecsn halves and pieces
Preheat oven to 250 degrees.  Place butter in large roasting pan, slide pan in oven, allow butter to melt, and remove pan from oven. Whisk in mayo, lemon juice, pickle juice, Liquid Aminos, and spices. Then stir in remaining ingredients, in order, coating evenly with butter mixture. Roast for an hour, stirring every 15 minutes, remove from oven, cool completely,  and store in airtight containers.