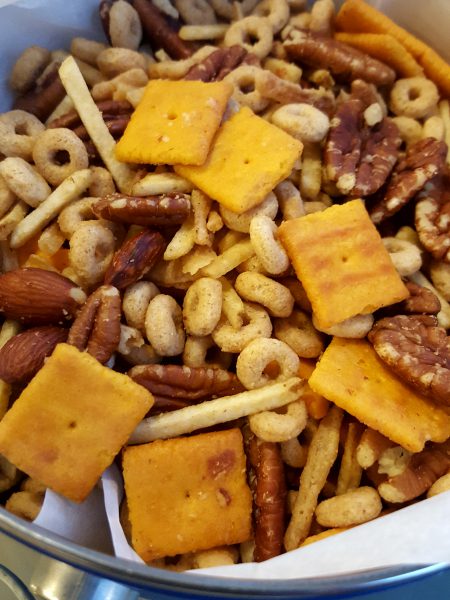 I guess you could call this "hunker down" food, as I seem to get a powerful urge to get my Chex on when temperatures drop and snow is in the forecast.  With snow predicted to start falling yesterday at around 4 p.m. and an early release from the high school where I teach art, I found myself in Whole Foods and Kroger buying "necessities."
A few years back, I went on a Chex bender creating half a dozen or more delicious flavors, some with actual Chex cereal and some just inspired by that original Chex Mix recipe that my Texan mother always referred to as "Texas Trash."  (You can find them all here–Tex-Mex, Indian, Thai, Italian, and more–just search "Chex mix.")
That same craving was starting to play around the corners of my mind and belly again but, honestly, I have created so many of these recipes that there didn't seem to be much uncharted territory left in the savory world that is.  Sweet Chex Mix just doesn't do it for me, though I might create a Moroccan flavored one with dried apricots.  Stay tuned.
This cold weather–okay, pretty much any weather–ignites my appetite for Tater Tots: that crispy-on-the-outside-soft-on-the-inside-ever-so-slightly-greasy goodness.  And, recently, on the Whole Foods "hot bar," they were serving "Loaded Tater Tots," which, of course, I couldn't eat, as they were piled with bacon, cheddar cheese, and sour cream, along with fresh, bright green onions. But I could certainly fantasize; and, in the process, I realized I could easily translate all of those flavors to a Chex-less Mix.
The tots themselves became Potato Sticks (sold on most snack aisles) and fried onions in a can (you know, the kind used for green bean casserole topping) to capture the crispy fried goodness of the Tot exterior while also imparting the onion flavor.  The bacon became smoked almonds–and I threw in lots of pecan halves just because I love them–and the cheese Earth Balance Cheddar Flavored Squares.  (Here in Virginia, I find them at Whole Foods, where the cashier and I had a conversation about what a dead-ringer they are for Cheez-Its.)   To lend the tanginess of sour cream, I actually whisked some vegan sour cream into the melted vegan butter base.  It does not make the mix soggy–far from it.   And, finally, I included Cheerios because they are neutral in flavor, a cute shape, deliciously crunchy, extend the volume of the mix, and are one of my favorite ingredients in the original Chex Mix.
So, there you have it.  This ain't no vegan health food, so don't even start, but for the occasional splurge or gift from your kitchen?  Oh yea!  However, having second thoughts about being snowed in with all of this high-calorie goodness, I decided to gift it to neighbors.  After I walked the dogs late in the afternoon as the beautiful snow began to come down, I went for my own walk.  Before I set out into the deepening snow, I tucked a late gift for one of our dog walkers and a huge canister of mix into one plastic bag and a casserole dish that I needed to return to someone else filled with the rest of the mix into its own snow-proof bag.
I love bundling up and experiencing the world when it is hushed and still, wrapped 'round with a frozen white cloak.  It was even more satisfying for my muffled footsteps to be taking me on a solo mission that would bring a little tasty joy into the cozy homes of friends at opposite ends of our neighborhood.
Vegan Loaded Tater Tot Chex Mix
1/2 cup vegan butter
4 tablespoons vegan sour cream
1 tablespoon Liquid Aminos
1 tablespoon garlic powder
12 ounces pecan halves
6 ounces smoked almonds
6 cups Cheerios
6 ounces Earth Balance vegan cheddar flavor squares
4 ounces Potato Sticks
6 ounces fried onions in a can
Preheat oven to 250 degrees. Place vegan butter in a large roasting pan and place pan in oven for a few minutes until butter is melted. Remove pan from oven and whisk in vegan sour cream, Liquid Aminos, and garlic powder. Then, in the order listed, gently stir in the remaining ingredients. Place the pan back in the oven and bake mixture for 45 minutes, gently stirring every 15. Let cool completely and then package in airtight containers.