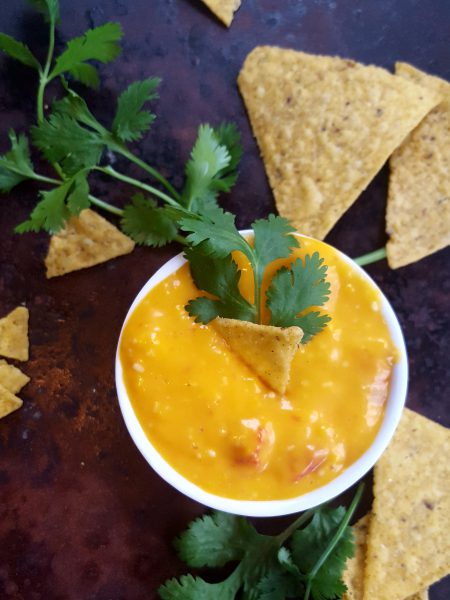 This is the old school recipe my way…
And hopefully I am not posting this too late for your Super Bowl festivities.
Recently, a local vegan bakery advertised their vegan "chick-un" nugget platter with "cheese" sauce for the Super Bowl.  I was curious about the sauce because, fairly recently in researching vegan cheese sauces online, there was a baffling array of sauces made with potatoes, eggplant, cashews and more.  But I was highly skeptical and  wondered to myself at the time, "Why not just melt some vegan cheese?"   And I shied away from experimenting.  But, Friday, I purchased some of the advertised sauce on the way to school to enjoy with my lunch at my desk.  It was a nice texture and lovely color, but it tasted oddly of garlic and mustard, ingredients I have used in vegan cheese spreads, but better camouflaged than that. It wasn't bad, but it didn't taste convincingly like cheese.
So, I looked up the old recipe from my childhood–10 ounces of Ro*tel tomatoes and 1 pound of Velveeta–and purchased some Ro*tel yesterday on my grocery store run.  The cheese I had on hand.  Velveeta is so processed that it always reminded me of what would happen if orange vinyl were sold in blocks, so I figured that vegan cheese would be a shoe-in.  This morning I melted it in the microwave with the So Delicious vegan shredded cheeses I had on hand–both cheddar and cheddar-jack–and I was right!  I needed look no further for my go-to cheese sauce.  And, shamefully, I fantasized almost all the way through my yoga class, buying some jalapeno-lime corn chips on the way home and diving in.
Granted, this is not health food folks.  It is an occasional splurge.  And with the price of vegan cheese, it's not cheap.  But it is super simple, lightening fast, and delicious.  It contains no nuts as some cheese sauces do, but it does contain soy.  However, soy is not even a whisper of a problem for me and hopefully not for you.
Plus, I can think of a million ways to use it.  It is hard to beat, plain, as a hot dip for chips.  But why not add corn, black beans, green chilies, vegan sausage, cooked diced potato, or some of all and enjoy it as a chunkier dip, as a sauce for nachos, a filling for enchiladas, or even as a base for a casserole, say potato and Poblano?  Or simply kick it up with some cumin, coriander, chili powder, or lime juice?
While your wheels are turning, why not make a batch and munch on it with some crispy chips?
Vegan Ro*tel "Velveeta" Dip
1 10-ounce can Ro*tel Diced Tomatoes and Green Chilies, mild or spicy
1 pound shredded vegan cheese (I like So Delicious cheddar and cheddar-jack sold in 8 ounce packages)
Optional garnish: chopped fresh garnish
Place in a microwave safe bowl or a double boiler and heat until melted, stirring frequently, approximately 8 minutes.  Whisk for a smoother finished product.  Serve warm with chips and a sprinkling of chopped fresh cilantro.