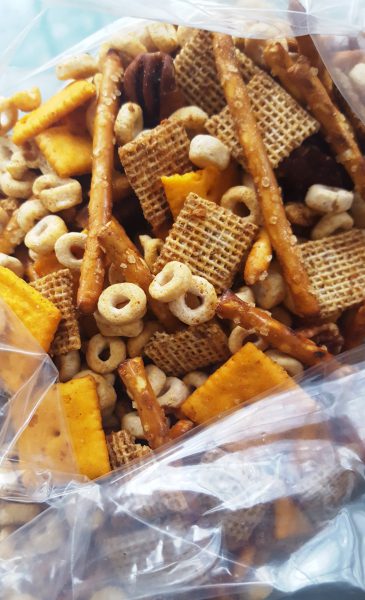 I love healthy whole foods as much as the next gal, but I do have my guilty pleasures.  And my late mom's "Texas Trash," the 1960s version of "Original Chex Mix," is one.  But I can never leave well enough alone and, over the years, I have experimented with various flavored iterations.  This Taco-Fajita version is worth sharing.  I can't keep this stuff in the house, so I made it for contractors renovating my kitchen to thank them for helping beautity my home.  But I had my share of tastes to satisfy my craving before I bagged it up for gift-giving. The fajita seasoning adds a nice citrusy lime flavor, but if that's not your jam, just use two packages of Taco seasoning.  However, don't even think about omitting the "cheese" crackers.
6 cups (about 12 ounces) Chex Cereal: wheat, rice or corn (I actually used Cascadian Farms Organic Whole Grain Squares–wheat, rice and corn combined–from Whole Foods so that I didn't have to buy several boxes of cereal and have leftovers, as I am not a cereal eater)
1 1/2 cups vegan butter (it sounds like a lot BUT this recipe makes a lot and this amount is needed)
5 to 6 cups pecan halves (a bit over a pound)
1-1 ounce package Taco seasoning (be sure it's vegan)
1-1 ounce package Fajita seasoning (be sure it's also vegan and substitue another taco seasoning packet if you prefer)
1-14 ounce box Cheerios
8 ounces pretzel sticks (any shape is fine, but I like this shape for contrast)
1-6 ounce box Earth Balance Vegan Cheddar Flavored Squares (purchased at Whole Foods)
Preheat oven to 250 degrees.  Place butter in large roasting pan and place pan in oven for a few minutes or until butter is melted.  Stir in seasoning packets followed by pecans and toss well to coat.  Add remaining ingredients in succession, gently stirring after each addition to coat with the butter mixture.  Roast for 45 minutes, gently stirring up from the bottom every 15 minutes.  Turn off oven, leave door closed, and let the mix sit for a final 15 minutes.  Remove from oven, stir well, allow to cool completely–it will crisp even more as it cools–and package for eating or giving.  Note: I don't find the mixture too buttery for an indulgent snack, but if you prefer to absorb a little of the oil, spread the mixture on brown paper bags or paper towels to cool.