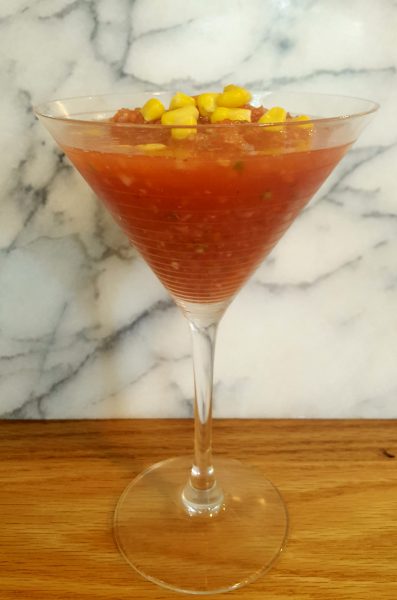 Yield: 6 to 8 servings
For a long time, I thought I didn't care for gazpacho. And I don't like the rich, tomato-y kind that tastes like a Bloody Mary.
But this ain't that!  I adore my quick, light version that combines watermelon, tomato, bell pepper, cucumber, onion, and garlic with some delicious spices and a bit of lime juice for that needed little zip.
If you grew up in the South, you might be familiar with salting the flesh of a watermelon before eating it. Somehow it makes the fruit taste even sweeter. So, avoid skimping on the salt. But at the same time, don't over-salt. Finding that sweet spot, no pun intended, is essential to a soup with lively flavors.
Food scarcely gets more beautiful, more nutritious, or more easy to put together than this one-processor meal. It is low-calorie, includes no added fat, and is filling without being heavy. It is low in protein, however, so you might pair it with chickpea salad or marinated and grilled tofu or tempeh.
And it is great stand-up cocktail party food because, served in glasses, guests can sip as they mingle.
1.5 pounds seeded watermelon cubes
1 large cored tomato, cut into chunks (I like a gnarly heirloom variety)
1 large seeded orange or yellow bell pepper (red would be fine too)
1-8 inch cucumber, cut into chunks (I leave peel on and seeds in for nutrition)
1 medium yellow onion, peeled and cut into chunks
3 to 4 large cloves garlic, peeled and halved
Juice of one large lime
Optional: 1/2 cup loosely packed cilantro leaves and tender stems
2 teaspoons ground cumin
1/2 teaspoon dried oregano
1/2 teaspoon smoked paprika
1 teaspoon sea salt or to taste
1/4 teaspoon freshly ground black pepper
Optional garnishes:  roasted or grilled corn kernels; diced tomato, bell pepper, or cucumber; minced jalapeno; pine nuts, toasted or not; vegan sour cream; sprigs of cilantro; a sprinkling of smoked paprika; and/or slices of lime, cut from edge to center, and hung on rim of martini glass, if using.
Place half of fruit and vegetable chunks and all of lime juice, spices, and optional cilantro in the bowl of a large food processor and process until as smooth as you want. Pour into a large bowl. Process remaining fruit and vegetables to the same consistency, pour into bowl, and stir well to completely combine. Chill for at least a couple of hours and serve in cups, bowls, or glasses for spooning or sipping, garnished as desired.