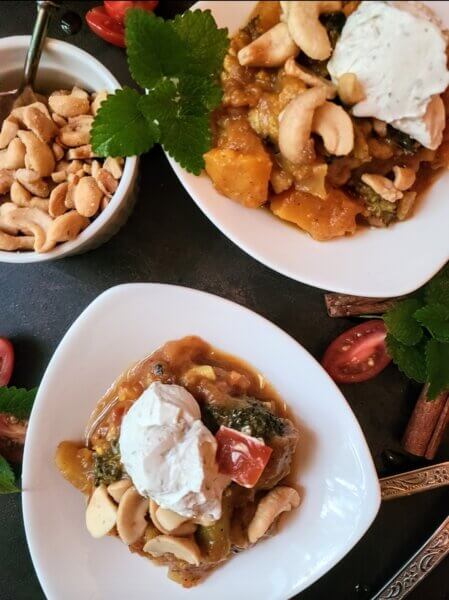 Middle Eastern-Inspired Butternut Squash Stew (vegan & plant-based)
Yield:6 servings
This golden, spiced–but not "spicy"–vegan and plant-based stew checks all my autumnal boxes.
Fresh squeezed orange juice is one of my secret ingredients. Canned pureed organic butternut squash is my other "secret" weapon for silky, luscious, and low calorie vegan and plant-based "cream" soup bases. I find it at Harris Teeter, but you can substitute pumpkin if unable to locate.
Roast the following until caramelized at 425-450 degrees, lightly coated in olive olive and a sprinkle of salt:
12 ounces combined broccoli and cauliflower florets, approximately 20 to 25 minutes
16 to 24 ounces cubed butternut squash, approximately 30-35 minutes
Meanwhile proceed with recipe:
1/2 medium onion, diced
1/2 medium red bell pepper, diced
2 to 3 large cloves garlic, thinly sliced
1/2 cup water or vegetable broth
Pinch sea salt
1-15 5 ounce can fire-roasted tomatoes
1 teaspoon each: ground cardamom, ground coriander, ground cumin, garlic powder, onion powder, sumac, zaatar
1 bay leaf
1 cinnamon stick
1-15 5 ounce can pureed butternut squash (I buy at Harris Teeter)
1/3 cup coconut milk
2 to 3 cups vegetable stock
Juice of 1 medium-large orange
Sea salt to taste
Garnishes: plant-based sour cream; roasted and lightly salted pumpkin seeds or cashews; halved cherry tomatoes; cilantro, mint, or lemon balm sprigs
In Dutch oven or large pot, saute onion, bell pepper, and garlic in water/stock with pinch sea salt until tender. Add all remaining ingredients and simmer while vegetables roast. Stir in vegetables and simmer for another 10 minutes or so for flavors to marry. Serve garnished as desired.
#vegan #veganrecipes #veganfoodshare #veganfoodporn #plantbased #plantbasedrecipes #plantbasedfoodshare #plantbasedfoodporn #vegansofinstagram #vegansoffacebook #vegansofvirginia #plantbasedmiddleeastern #veganbuffalomiddleeastern #plantbasedbutternutsquash #veganbutternutsquash #plantbasedstew #veganstew