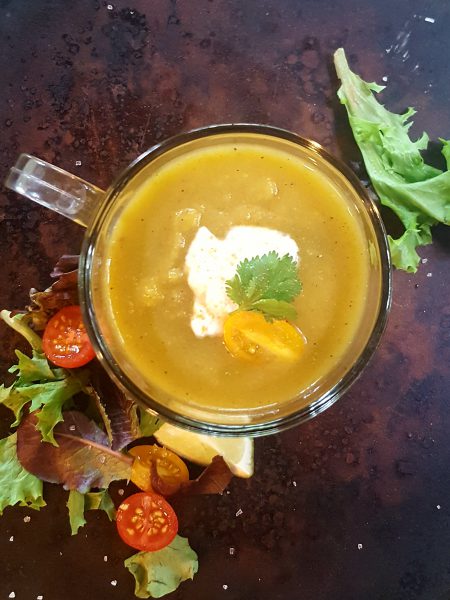 An easy, elegant, low calorie and, of course, vegan lunch hack…
Southwestern Butternut Squash Bisque
Yield: 2 generous servings, app. 200 calories each (including garnish)
Every so often, I go on what I only half-jokingly call an "austerity program," limiting myself to what's in my pantry or freezer combined with a few fresh ingredients rather than giving in to whims and cravings that would require more purchases.
I have had some Dr. Mcdougall's brand organic, vegan Butternut Squash Bisque hanging around in a 17.6 ounce box for a while. I opened it, tasted it, and found it lovely in its sweetness, earthiness, and velvety texture.  But I felt it needed a little boost.  Incidentally, the whole container was only 240 calories.
I also discovered some Frontera brand Green Chile Enchilada Sauce with roasted tomatillo and garlic in an 8 oz package.  This whole container was only 80 calories and it, too, was tasty and silky on its own.
I simply stirred them together, heated the mixture, put a dollop of vegan sour cream and a sprig of fresh cilantro on top, and garnished with a little side salad of mixed lettuces, halved cherry tomatoes, and a wedge of lime. In a very few minutes, lunch was served.
Honestly, I would order this dish in a restaurant and tip generously with compliments to the chef.