Yield: 4 servings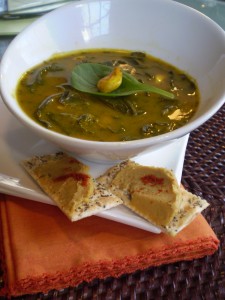 Take a look at that rich color…it's hard to believe that this earthy, spicy soup is both low in fat and low in calories, isn't it? 
I created it last weekend as an antidote to my Vegan Ginger-Spice Caramel Pecan Rolls, of which I ate TWO in one day (though I went for long walks and shared the rest with co-workers on Monday).  I knew I needed to eat something else that was very low in fat and calories, but full of vitamins, so Skinny Indian Soup was born. 
It's simply vegetable stock–store-bought for convenience–simmered with lots of sweet roasted garlic cloves–also purchased for convenience –and Indian spices plus a little Liquid Aminos, lemon juice for brightness, and nutritional yeast with bushels of fresh baby spinach added near the end.  You won't believe the depth of flavor!  And the only fat comes from any that might be clinging to the roasted garlic cloves.  (I buy the garlic NOT in a jar, but in bulk from my grocery store's antipasto bar.)
Note:  I like fairly pronounced lfavors of spices in most all of my food; if you don't, consider starting with half the amount of each spice, tasting after a couple of minutes of simmering and adding more if desired.
Since the soup itself lacks adequate protein, I enjoy it with a cold glass of unsweetened soymilk and, if I haven't overdone it in the calorie department, a couple of "everything" flatbread crackers spread with just a smidge of my Vegan Cheddar "Cheese" Spread and a tiny pinch of paparika for color.
Here's to the last spinach of winter and the great bodies of summer!
4 cups vegetable stock
1 tablespoon Bragg's Liquid Aminos
Juice of 1 medium lemon (about 4 teaspoons)
1 tablespoon nutritional yeast
1/2 cup roasted garlic cloves (sounds like a lot but, because they are so sweet, that it's perfect)
1 tablespoon dried cilantro
1 teaspoon ground coriander
1 teaspoon dry mustard
1 teaspoon turmeric
3/4 teaspoon ground cardamom
1/2 teaspoon ground cumin
1/4 teaspoon cinnamon
8 cups lightly packed fresh baby spinach (if desired, save 4 leaves for garnish)
In a 4-quart saucepan, simmer together all ingredients except spinach for about 5  minutes, stirring occasionally.  Add spinach and gentely simmer, still stirring occasionally, for 2-3 minutes more.  Spinach should retain some nice green color.  Serve warm, garnished, if desired, with a roasted garlic clove in fresh spinach leaf "boat."