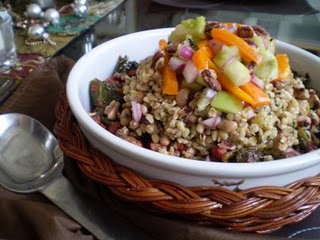 Yield: app. 4 servings
You can take the girl out of the Deep South, but you can't take the Deep South out of the girl. Partially inspired by my roots and partially inspired by what was in my pantry, this dish is a cleaned up, contemporary take on collards and Hoppin' John with a nod to fried green tomatoes, though there is nothing breaded or fried about it. Liquid Smoke replaces the fat back in the greens which are also cooked with diced tomatoes for a boost of color, flavor and vitamins. The next layer provides protein and fiber in the form of a whole grain pilaf that begins with a packaged mix to which blackeyed peas are added. For a burst of crunchy and colorful freshness, a salsa of green tomato, orange bell pepper and red onion crowns the layers. And for good measure, a few roasted pecan pieces provide the perfect garnish. Despite the layers, this dish comes together surprisingly quickly.
Pilaf:
1 tablespoon olive oil
½ cup finely chopped yellow, white or green onion
1 ¾ cup faux chicken stock (vegetable stock would work fine)
1 box Near East brand "Whole Grain Blends"—Roasted Pecan and Garlic flavor, including seasoning packet
1-15 ounce can vegan black-eyed peas, rinsed and drained
2 tablespoons minced fresh parsley or 2 teaspoons dried
Greens:
1 tablespoon olive oil
8 ounces rinsed, dried and chopped fresh collards (I use the pre-chopped read-to-eat variety that comes in a plastic bag)
1-15 ounce can petite diced tomatoes in juice
salt, pepper and garlic powder to taste
a few dashes of Liquid Smoke to taste (go easy so as not to overpower the other flavors)
2 tablespoons apple cider or white vinegar
1 tablespoon granulated sugar or raw sugar
Salsa:
1 green tomato, cored and diced
½ of an orange bell pepper (red would be fine), cut in half cross-wise and then sliced into strips
¼ of a medium-large red onion, peeled and finely diced
1 scant tablespoon granulated white or raw sugar
2 tablespoons apple cider or white vinegar
salt, pepper and garlic powder to taste
a few dashes of your favorite hot sauce to taste
Garnish:
¼-1/3 cup pecan pieces, roasted at 450 degrees for 5-7 minutes (watch carefully) and lightly salted, if desired
In a medium saucepan, heat 1 tablespoon of oil over medium-high heat. Add onion and sauté, stirring frequently, for a few minutes or until softened. Stir in faux chicken stock and pilaf and cover loosely. Reduce heat to a simmer, and cook 25-30 minutes, stirring only occasionally, until water is absorbed/evaporated. Remove pan from heat, stir in spice packet and let stand 3-5 minutes. Gently stir in blackeyed peas and parsley.
Meanwhile, in a large pot or wok, heat 1 tablespoon of oil over medium high heat. Add collards and stir-fry for approximately 10 minutes, stirring quite frequently to prevent sticking. Stir in remaining ingredients and cook approximately 7-10 more minutes or until greens are tender. Sadly, when the greens are at their brightest and prettiest green, they are not tender enough to be palatable. They will be a darker green when cooked to the optimum degree of doneness.
While greens/tomatoes and pilaf cook, prepare salsa by combining all ingredients and tossing gently to combine. Cover and refrigerate if not serving immediately; otherwise, set aside.
To serve, spoon greens and tomatoes into the bottom of a serving dish. Heap the pilaf into a pleasing dome on top of the greens and spoon the salsa over the mound. Top with a sprinkling of roasted pecans. Alternatively, follow the same procedure in individual shallow bowls.