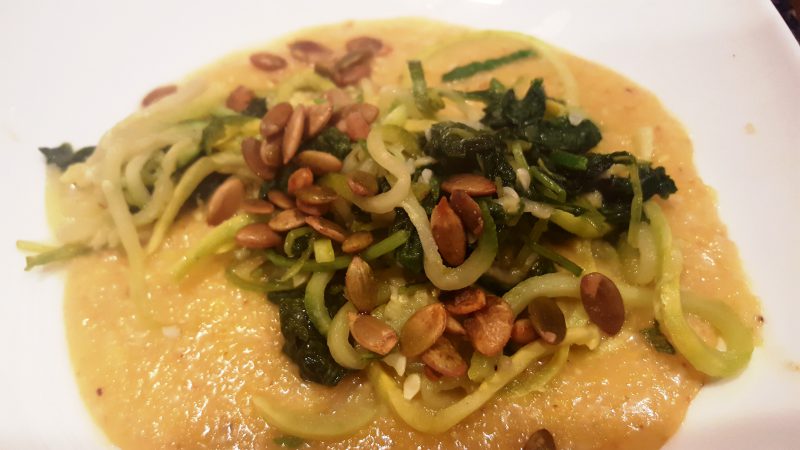 Yield: approximately 4 modest servings
The last couple of months finds me joyfully experimenting with vegan dishes my new partner, Bob–a meatatarian–and I can share. There are some dishes, like these grits, with which we enjoy tinkering together; and they were a hit, though Bob topped his with something we will not mention on this site. 😉
Bob is very into balanced flavors and it was his idea to drizzle the dish with the maple syrup even though this is a savory dish. His suggestion was genius.
As for cheese, use any you prefer for a total of 8 to 9 ounces.  I love the smoky flavor, but it's not necessary for a delectable finished dish.
Vegan Cheesy Grits (with the topping of your choice)
4 cups water
1 cup stone ground yellow grits
Salt and pepper to taste
2 large cloves garlic, minced
*2 ounces grated vegan Parmesan
*3 ounces vegan cheddar
*4 ounces vegan smoked gouda
1 tablespoon Liquid Aminos
2 to 3 tablespoons nutritional yeast
Accompaniment: Sauteed vegetables of your choice (I sauteed shredded zucchini and yellow squash and a little kale in olive oil with minced garlic)
Garnishes: maple syrup and roasted and lightly salted nuts or seeds, e.g. pumpkin seeds
In a 2-quart saucepan over medium-high heat, bring lightly salted water to a boil, reduce to a simmer, and stir in grits and garlic. Cook for 15 to 20 minutes, stirring occasionally. During the last 5 minutes or so, stir in remaining ingredients except sauteed veggies and garnishes. Serve topped with those veggies and the optional drizzle of maple syrup plus a sprinkle of roasted nuts or seeds.
Note: I purchase the cheeses at Whole Foods.